Flight disruptions cascade across US after computer outage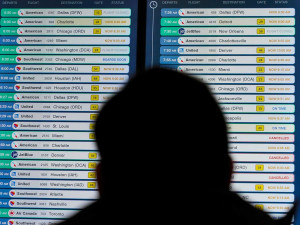 FAA Outage
The world's largest aircraft fleet was grounded for hours by a cascading outage in a government system that delayed or cancelled thousands of flights across the US on Wednesday.
The White House initially said that there was no evidence of a cyber attack behind the outage that ruined travel plans for millions of passengers.
US President Joe Biden said on Wednesday morning that he has directed the Department of Transportation to investigate.
Whatever the cause, the outage revealed how dependent the world's largest economy is on air travel, and how dependent air travel is on a computer system called the Notice to Air Missions, or NOTAM.
Before commencing a flight, pilots are required to consult NOTAMs, which list potential adverse impacts on flights, from runway construction to the potential for icing.
The system used to be telephone-based, with pilots calling dedicated flight service stations for the information, but has moved online.
The NOTAM system broke down late on Tuesday, leading to more than 1,100 flight cancellations and 7,700 delayed flights by midday on Wednesday, according to the flight tracking website FlightAware.
The chaos is expected to grow as back-ups compound.
Update 5: Normal air traffic operations are resuming gradually across the U.S. following an overnight outage to the Notice to Air Missions system that provides safety info to flight crews. The ground stop has been lifted. We continue to look into the cause of the initial problem
— The FAA ? (@FAANews) January 11, 2023
More than 21,000 flights were scheduled to take off in the US on Wednesday, mostly domestic trips, and about 1,840 international flights expected to fly to the US, according to aviation data firm Cirium.
Airports in Chicago, Los Angeles, New York and Atlanta were seeing between 30% and 40% of flights delayed.
"We are going to see the ripple effects from that, this morning's delays through the system during the day," said Transportation Secretary Pete Buttigieg in an interview on CNN.
"Now we have to understand how this could have happened in the first place. Why the usual redundancies that would stop it from being that disruptive did not stop it from being disruptive this time."
According to Federal Aviation Administration (FFA) advisories, the NOTAM system failed at 8.28pm Eastern (1.28am GMT) on Tuesday, preventing new or amended notices from being distributed to pilots.
The FAA resorted to a telephone hotline to keep departures flying overnight, but as daytime traffic picked up it overwhelmed the telephone back-up system.
The FAA ordered all departing flights grounded early on Wednesday morning, affecting all passenger and shipping flights.
Some medical flights could get clearance and the outage did not impact any military operations or mobility.
Flights for the US military's Air Mobility Command were not affected.
FAA has determined that the safety system affected by the overnight outage is fully restored, and the nationwide ground stop will be lifted effective immediately. I have directed an after-action process to determine root causes and recommend next steps.
— Secretary Pete Buttigieg (@SecretaryPete) January 11, 2023
Mr Biden said on Wednesday morning that he was briefed by Mr Buttigieg.
"I just spoke to Buttigieg. They don't know what the cause is. But I was on the phone with him about 10 minutes," Mr Biden said. "I told him to report directly to me when they find out.
Mr Buttigieg said on CNN that the order to ground all departing flights was done out of an abundance of caution, but said mass disruptions to US air travel are not acceptable.
"We need to design a system that does not have this kind of vulnerability," Mr Buttigieg said.
European flights into the US appeared to be largely unaffected.
Carriers from Ireland's Aer Lingus to Germany's Lufthansa said there was no impact on their schedules.
It was the latest headache for travellers in the US who faced flight cancellations over the holidays amid winter storms and a breakdown with staffing technology at Southwest Airlines.
They also ran into long lines, lost baggage, and cancellations and delays over the summer as travel demand roared back from the Covid-19 pandemic and ran into staffing cutbacks at airports and airlines in the US and Europe.