Readers' letters: Indy marchers on a road to nowhere
It would appear that Scottish nationalists are now using marches as a substitute for policies and meaningful political action. It is also a source for SNP finance as the organisers made clear before last Saturday's march that "paper money'' would be best to fill the buckets. I assume it was coincidental that the march was arranged after a series of polls were predicting a drastic nationalist downfallnote-0.
If the present administration cannot run things properly, and that is proven to be the case on an almost daily basis, then their reasoning must be a march[1] of mostly old fogeys, dressed up and their kilts and flags newly ironed, tends to stop people asking relevant questions. Mind you, to deflect the ferry fiasco, they would need a daily march for a full year.
If only they would stop their incessant and terminally boring marches and instead make decisions on a logical, not dogmatic, base. And begin to tell the people of this country the truth. That would work wonders.
Alexander McKay, Edinburgh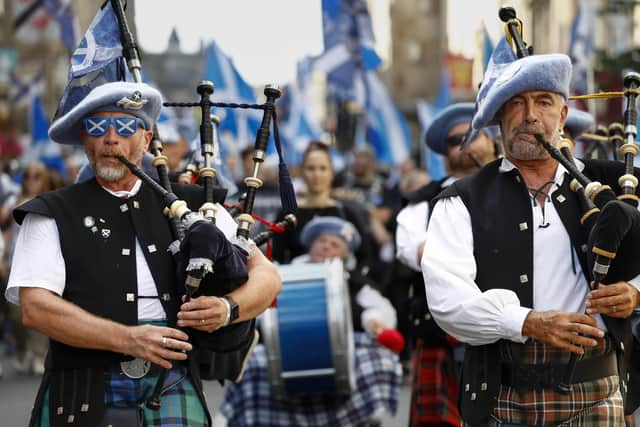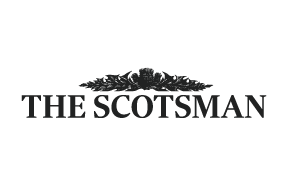 Supporters of Scottish Independence take part in Saturday's march and rally in Edinburgh (Picture: Jeff J Mitchell/Getty Images)
Who are they?
Support for the SNP is plunging among its former powerbase of young and aspirational voters according to new polling analysis. Then we see the marchers, their numbers greatly depleted of course to less than 4,000 – but who are these people whose support for separation is quite incomprehensible?
Many of us wonder how anyone in their right mind fails to see the mess made by the SNP and can actually still support and potentially vote for them? How is it that they do not understand that if there was a case – a proper viable case – for independence then we would have had it rammed down our throats long ago. If independence was a viable prospect it would be clear and self-evident by now and we would have the answers as to how Scotland can afford to be a successful independent country. Then once that was established the question would be do we even want to be when we have had over 300 years of successful growth and security?
And yet they keep marching on and on and on.
Pauline Eggermont, Beauly, Highland
Clean bill of health
Over a week ago my wife fell and hurt her arm. She did not want to go to A&E, partly due to bad press reports[2] in The Scotsman telling us that waiting times could be four hours or more. However she was in great pain and we went to the Royal Infirmary of Edinburgh last Thursday mid-morning. The car park was free and we went into the Minor Injuries Unit.
We had a wait of only 20 minutes. She was assessed by a doctor, taken for an X-ray, recalled to the doctor for a report (broken bone) taken to the next place and a stooky was put on her arm. The whole process was completed in less than one-and-a-half hours. Next morning at about 9am a doctor phoned giving information about further treatment.
All the time we were in the hospital the staff seemed to be enjoying their work as opposed to some of the letters to The Scotsman saying that the staff were on the brink of collapse and that that NHS Scotland is failing due to government ineptitude. The reality is somewhat different.
Sandy Philip, Edinburgh
Dying economy
This is a personal snapshot of my life which will apply to millions of others and portends troubles to come.
I have a good dentist. He turned private as his practice could not survive government cuts. My dental costs have tripled. I now just heat the upstairs of my house – my energy use has halved, my bills have doubled. My car insurance broker has increased premiums by 50 per cent.
My supermarket bills now often hit £80 – they used to rarely hit £30. My wife died in service as a teacher. I am confused by the Inland Revenue giving me a rebate related to her death of £995 and a few weeks later asked for over £700 back and I don't understand my new weird tax code. I couldn't log in to my personal tax page. These internet systems are difficult or impossible to access.
My wife's funeral and burial cost nearly £10,000. Fish and chips is a luxury, it used to be a staple. A bottle of indigestion mixture costs over £10, it cost nothing to make.
My children face massive increases in mortgage costs. The Bank of England is living in the age of empires, not in the realities of life today. Interest rates of five per cent increase the interest on a (small!) £200,000 mortgage from £2,000 per year to £10,000.
I now spend far more than I receive. Due to the death of my wife I need no help, but destitution is the fate of many. This letter is not about me – it is a statement on the chaotic economy of today,
Many, many, people cannot make ends meet. If people can't spend firms and shops will close making people redundant so they don't spend. To make matters worse the Government[3] puts up taxes to pay for these new claimants and its own past mistakes. The siphoning off of large profits removes vast sums from circulation. The deflationary cycle is then truly in gear.
The economy is dying. Please listen, think, act.
Ken Carew, Dumfries, Dumfries & Galloway
Brilliant bridges
A splendid photograph in yesterday's edition of the three bridges spanning the Forth. Happy birthday to the two road bridges, but what about the Old Lady of the Forth?
Opened in 1890 but still going strong, she was the longest bridge of the day at that time and set the tone for many others. Long may the Old Lady flourish – she might even outlast her two neighbours!
Sandy Macpherson, Edinburgh
Good old ScotRail! Forever moaning at customers to get our season tickets at the weekends so they don't get big queues at rush hour on a Monday morning, but when you go to your local station – according to ScotRail's own website open from 7.50am to 6.40pm – the whole place is locked up tighter than Fort Knox, with no notices indicating why.
The timing, however, did raise suspicions of falling victim to that quaint Scottish tradition where staff award themselves unofficial "Old Firm Donkey Derby[4]" time off and we proles just have to put up with the inconvenience.
Attempting to raise a complaint on their website was partially thwarted by it demanding selecting a station from the drop-down options – yes, you guessed it, the only drop-down option that wasn't available. Heaven forbid anyone suggest it had been coded deliberately to frustrate complainants.
And rail staff and their bosses alike wonder why public sympathy for them wears thin?
Mark Boyle, Johnstone, Renfrewshire
The phrase "once in a blue moon", meaning a very rare event (Scotsman, 1 September[5]), arose from the fact that very occasionally the Moon, also the Sun, can look blue. This is always due to dust or smoke particles in the atmosphere filtering out longer wavelengths and leavingthe shorter (blue) ones.
This phenomenon was observed from Scotland and the North of England in September 1950, as reported in The Scotsman. It was caused by forest fires in Canada and I'm surprised that the recent fires there have not reproduced the phenomenon.
The recent notion that it applies to the second full moon in a month, a much less rare event, is a mistake and should be discouraged.
Steuart Campbell, Edinburgh
Carnival crime
Given the Notting Hill Carnival almost coincided with a blue moon, I confidently expected London-based BBC News to enlighten us regarding the number of arrests this year.
These were for attacks on police officers, sexual assaults, possession of offensive weapons, drug taking and possession, and violence.
The BBC is not usually slow reporting London-based news as of interest to all the United Kingdom.
Other reports suggest "most people had a fantastic time", though, presumably, not those officers assaulted, (including those bitten), which led to the 275 arrests the BBC missed.
John V Lloyd, Inverkeithing, Fife
Blame game
Inevitably, blame for the crumbling concrete fiasco[6] is attributed to "the government" for cutting repair budgets, rather than to the construction industry "experts" who approved and used such an unsuitable product for buildings that should have lifespans of 100 years. Like our roadway potholes, and the Grenfell Tower disaster, the initial construction materials and methods caused the problem, not subsequent repairs whether inadequate or not.
It was ever so – the contaminated blood scandal from decades ago was the fault of clinical NHS "experts", and the lack of PPE and Covid test kits the fault of NHS procurement staff, not of "the government". The Post Office computer shambles was caused by the IT system developer and supplier, and by the disgraceful response of the PO's management.
Politicians participating in the so-called Partygate events were clearly unwise, but there were relatively few of them – such events were primarily initiated and attended by far more civil servants, at all seniority levels, but they seem to have got off largely scot-free. It is always too easy to blame "the government" which, fortunately, does not "run the country" – we all do in a well-educated democracy, and culpability for failures and disasters very often lies at society's operating levels.
John Birkett, St Andrews, Fife
Write to The Scotsman
We welcome your thoughts – NO letters submitted elsewhere, please. Write to [email protected][7] including name, address and phone number – we won't print full details. Keep letters under 300 words, with no attachments, and avoid 'Letters to the Editor/Readers' Letters' or similar in your subject line – be specific. If referring to an article, include date, page number and heading.
References