First drive: 2024 Toyota C-HR

6 mins read
11 September 2023
It's fitting that the development work for the new Toyota C-HR[1] was led by the firm's technical centre in Brussels, the de facto capital of Europe. It may be the product of a Japanese manufacturer, but this is a machine that has been developed in Europe, is focused on pleasing European drivers and will be built in Europe.
Eschewing Toyota's previous strategy for 'global cars', the original C-HR[2] was developed to help the brand grow its share in the European market – and it clearly worked. It's Toyota's fourth-best-seller here, helping the firm's rise up the sales charts. Most significantly, it's been by far Toyota's most successful car in winning over new customers: 59% of C-HR drivers switched from another brand.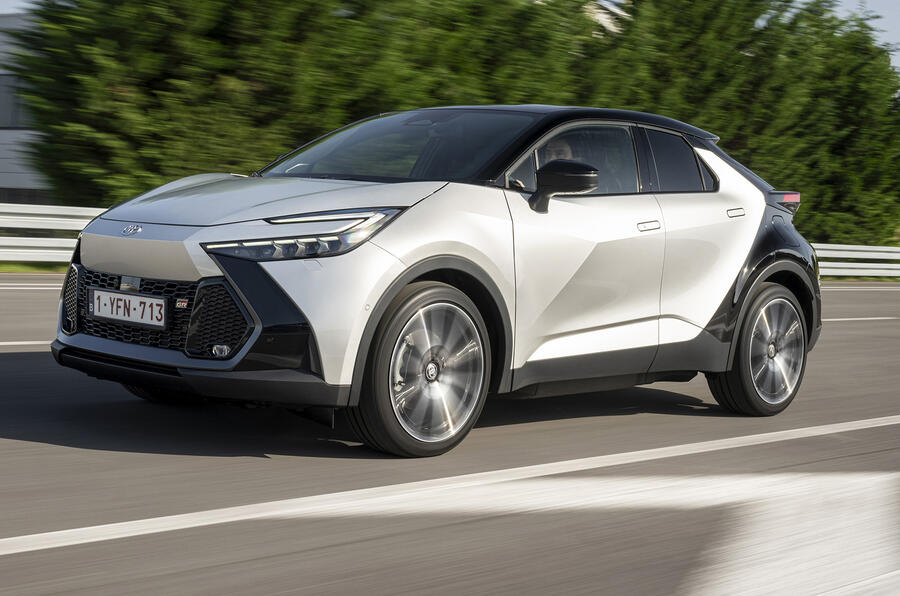 Key to that success has been how well the C-HR was placed for the European market. Its mix of sharp styling and coupé-crossover shape helped it to find a genuinely rare space at the small end of the C-SUV market (think Volkswagen T-Roc[3] and Kia Niro[4]) and stood far apart from Toyota's previously stodgy designs, attracting buyers who wanted a bit of edge to their high-riding family runabout. 
So Toyota has doubled down on its approach, both in terms of European-focused development and styling, with this second-generation C-HR. Chief engineer Toshio Kanei led development from Toyota's Belgian technical centre and much of the styling work was done by the firm's ED2 design studio in Nice, France.
Toyota's customer research suggested the original's edgy styling was key to its conquest rate, and Kanei says that the goal with the new C-HR was to push that even further and make a "show car for the road". 
This C-HR makes the old one, rightly lauded for its dramatic styling, look positively bland. There are dramatic lines, bodywork creases so sharp they look like they could cut you and dramatically sculpted headlights. The front has been reworked with Toyota's new 'hammerhead' face, first seen on the lovely new Toyota Prius[5] we don't get over here. Certain trim levels will get a stylish two-tone paint scheme, too.
Notably, the bumpers and some other body elements are made of a new pre-coloured resin, so they don't need to be painted, which substantially reduces the amount of CO2 emitted during production. It also affords a cool two-tone appearance.
Highly unusually, the new C-HR is actually smaller than its predecessor. Toyota has trimmed 35mm from its length and 15mm from its height. But before you rejoice too much at a bucking of the trend for ever-growing cars, know that it's also 45mm wider. It has bigger wheels too: up to 20in.
While it's wider than the old version with a bigger frontal area thanks to the bigger wheels, the new C-HR is around two per cent more aerodynamically efficient than its predecessor.
The claim is that the wider track is better for handling, and because the C-HR maintains a 2640mm wheelbase, it has about the same amount of room for passengers.
If you're an adult who might spend a significant amount of time in the back of a C-HR, that could set some warning lights flashing: as before, rear leg room is far from the best and that sloping roofline cuts into the head room.
Still, that didn't exactly put off buyers before, and for those with young families it will be less of an issue. Besides, Toyota now offers the slightly larger Corolla Cross[6] in Europe (although not in the UK) for those who want to trade some style for some space.
Engineers have also made efforts to improve the feeling of space in the back: there's a new tinted panoramic roof that doesn't need a shade (adding 30mm of head room) and new window cut-outs in the C-pillar are designed to improve the views out.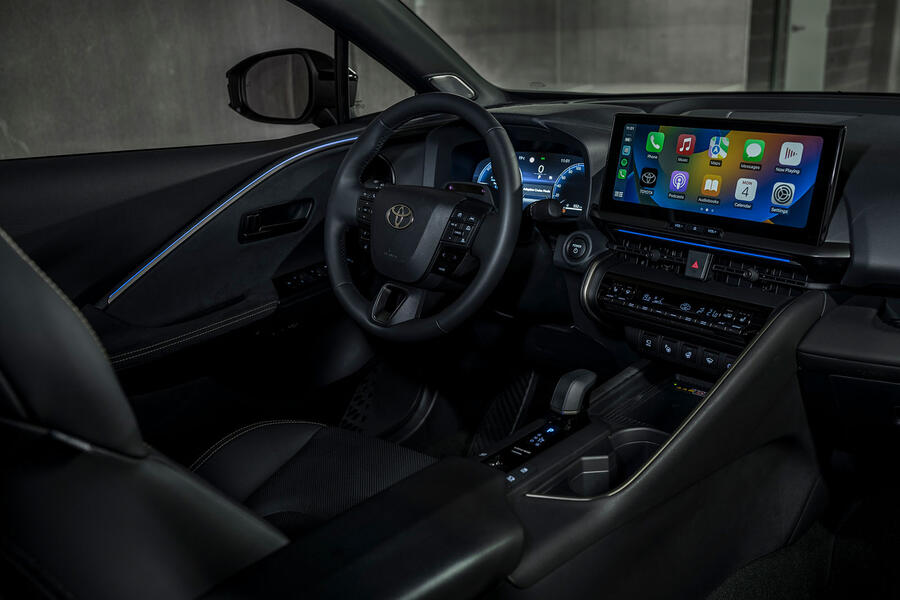 On the subject of those C-pillars, you'll no longer find the rear door handles hidden in them. Following feedback from customers they're now in a far more traditional position on the rear doors, although all the handles now sit flush to the bodywork and pop out when you push them in.
The boot remains on the small side, mind you – although Toyota has yet to give a capacity, or how much of it is lost in the PHEV version due to various electric gubbins underneath the floor.
In the front of the cabin, Toyota set out to improve the perceived quality, and it definitely feels a step up from the original C-HR. There's a new 12.3in digital dial display and a new touchscreen (8.0in as standard or 12.3in on pricier models, like ours) running Toyota's latest infotainment system, while enough physical controls remain for the key functions to keep most people happy.
The driver's seating position is quite high, as you would expect in a crossover, and visibility is good all round. The various grades of seats all feature recycled materials, and those in our test car were certainly comfortable enough.
Another part of the development team's focus was on improving the new C-HR's dynamics. Toyota's TNGA-C platform, also used by the Toyota Corolla[7] hatchback/estate, is a strong base, but there are some notable changes from the first version. While the suspension retains MacPherson struts up front and a multi-link set-up at the rear, both are reworked and tuned, the latter with elements from the set-ups of the Camry saloon and RAV4 SUV.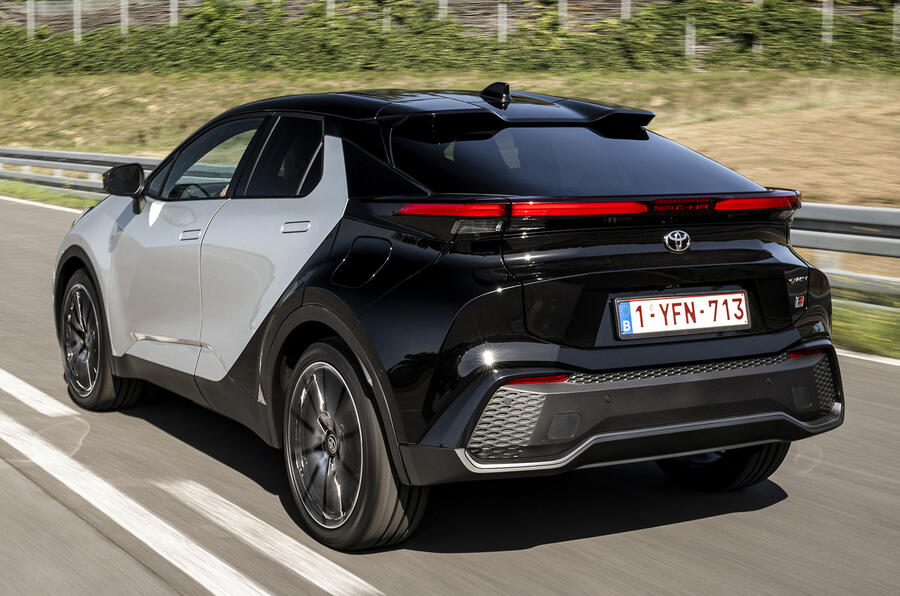 The PHEV uses new twin-piston brakes, while new ZF frequency-sensitive shock absorbers can soften to improve the ride over high-frequency bumps, while firming up elsewhere to reduce body roll.
There's also a new powertrain choice, the 1.8-litre and 2.0-litre hybrid systems from the original C-HR being joined by a 2.0-litre plug-in hybrid one, as in our test car. Based on Toyota's fifth-generation hybrid system, this uses the same 150bhp four-cylinder 2.0-litre petrol engine, a new 161bhp electric motor (because of the way these things work, they can send a maximum of 220bhp to the front wheels) and a much larger, 13.8kWh battery. 
It has an official electric-only range of 41 miles, although we got closer to 30 on our test drive. As is common with PHEVs, you can stick this C-HR in EV mode or use a hybrid option that will mete out the power and in tune with the sat-nav can use geofencing to use electric power in clean-air zones. You can also adjust the strength of the regenerative braking, up to a B mode that actually offers close to one-pedal driving.
The work Toyota that has done on the ride is notable, whether you're in tight urban areas or on fast and flowing roads. It's comfortable and well balanced, and remains poised on bumpy surfaces while also feeling stable at higher speeds.
It's agreeable rather than truly dynamic (after all, it's still a crossover), but it can certainly put a smile on your face.
The PHEV powertrain is also well tuned: the transition between the two power sources is smooth and it offers instant zip in EV mode. The engine has good response, too, with nice pick-up and acceleration and good response to your inputs.
Sadly, the soundtrack doesn't quite match the performance: it's a bit flat and very occasionally a bit gruff, although it does without some of the annoyances of the old regular hybrid's powertrain.
That said, the PHEV's top speed is no faster than the regular hybrid's and it is only 0.8sec faster to 0-62mph, so whether you opt for it might well depend on price and whether you are a company car driver (that 41-mile electric range puts it in the favourable 8% benefit-in-kind tax bracket).
Toyota has yet to set pricing, but we're expecting the hybrid to start at around £35,000 and the PHEV at closer to £40,000.
Despite the camouflage wrap on our test car, it was representative of production examples, and while we haven't tried the regular hybrid yet, it's already clear Toyota's Eurovision for the C-HR has paid off, the firm having taken a winning formula and improved it in most areas.
Toyota C-HR PHEV
Verdict 4 stars
Price £38,000 est Engine 4cyls in-line, 1987cc plus electric motor Power 220bhp at 6000rpm Torque 293lb ft at 4400-5200rpm Gearbox 1-spd reduction Kerb weight TBC 0-62mph 7.3secs Top speed 112mph Battery 13.8kWh Economy 261-294mpg Electric range 41 miles CO2, tax band 19-20g/km, TBC RIVALS Cupra Formentor eHybrid, Kia Niro PHEV[8][9]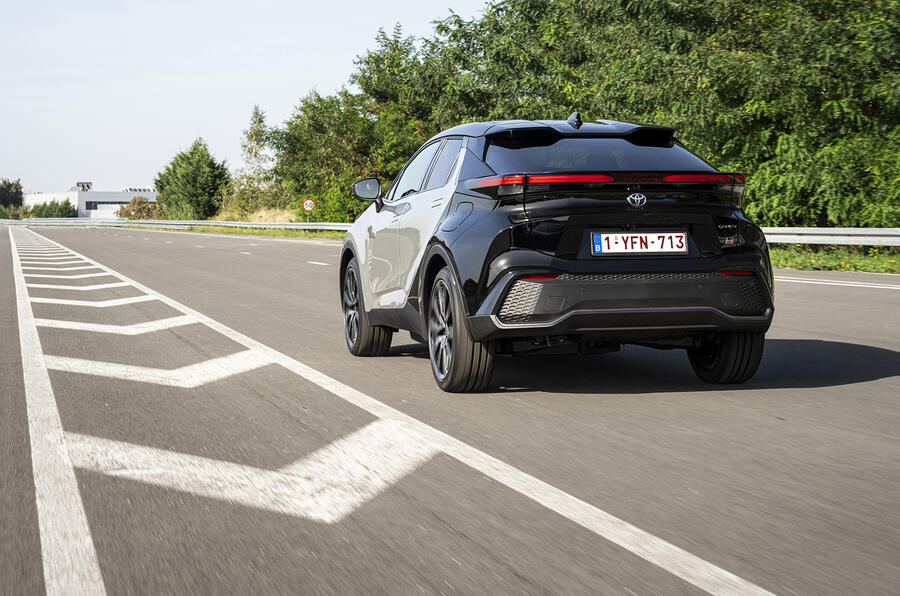 Never miss an issue of the world's oldest car magazine – subscribe to Autocar magazine today.
Subscribe
[11]
Log in
[12]
or
register
[13]
to post comments
References