Three people hospitalised after bus roof severed in rail bridge collision
Major disruption on rail network after crash at bridge that has been struck dozens of times over the years
Three people have been taken to hospital after a double-decker bus hit the underside of a railway bridge in Glasgow[1], shearing the roof off the vehicle.
The crash happened on Sunday morning in Cook Street in Tradeston, south of the city centre, causing major disruption on both the road and rail networks.
Eyewitness photographs from the scene showed a heavy Police Scotland[2] presence around the bridge, which has been struck by vehicles dozens of times over the years, with the severed roof of the bus lying on the road. The approach to the bridge is clearly signed with warnings advising drivers of height restrictions.
The incident is similar to a crash which took place in 2009, when a double-decker bus en route to a depot lost its roof after the driver rammed into the bridge while turning into Cook Street.
Paramedics[3] and firefighters attended the scene after the incident, which took place at around 11.35am, with police closing off a number of roads around Salkeld Street, Kilbirnie Street and Commerce Street, a key conduit for traffic coming in and out of the city centre.
As well as the three passengers who were taken to hospital, a number of other people were treated at the scene by the Scottish Ambulance Service..
It is not clear how the bus came to strike the bridge, or what damage it caused to the infrastructure, but Network Rail's engineers had to carry out an urgent safety inspection, forcing it to close to rail services.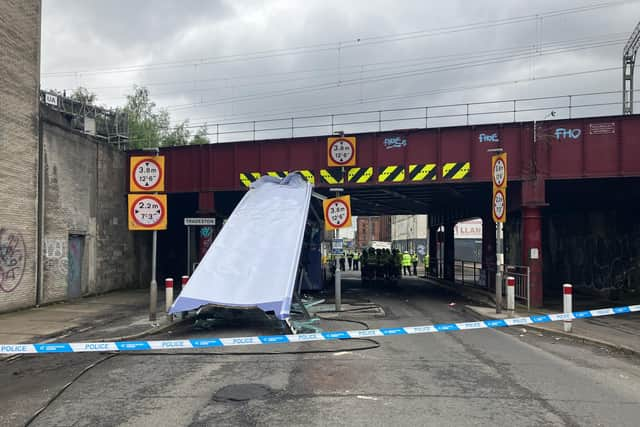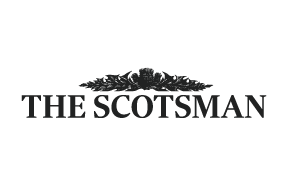 The roof of the double-decker bus was sliced off after the vehicle collided with the low bridge. Picture: Network Rail
The knock-on effect saw major disruption on Scotrail's services between Glasgow and Paisley, as well as the lines between Glasgow Central and Ayr, Largs, and Gourock, with several services on the latter three routes cancelled.
The stretch of line between Glasgow and Paisley reopened shortly after 2.30pm, but Scotrail said the disruption was expected to continue until early evening.
The Cook Street bridge has been regularly struck by vehicles over the years. According to Network Rail, there were 37 such incidents between 2009 and 2017.
Across the UK, there were more than 1,500 bridge strikes recorded in 2020/21. Research by the rail infrastructure agency has found that almost a third (32 per cent) of drivers have admitted to setting off whilst not being aware of the height of their vehicle, with over half (56 per cent) not considering low bridges when planning their journey.
A spokeswoman for the Scottish Fire and Rescue Service said: "Operations control mobilised three appliances to Cook Street, where firefighters supported partners to make the area safe.
"Three casualties have been transported to the Queen Elizabeth University Hospital by the Scottish Ambulance Service. A number of additional casualties have been treated at the scene but do not require to be taken to hospital.
In a statement, First Bus confirmed one of its buses was involved in the incident. The company said: "We are working closely with the emergency services at the scene and our thoughts are with those involved in the incident."
A spokesman for Network Rail said: "We're assisting the emergency services, who are responding to a bus trapped beneath a bridge between Glasgow Central and Paisley Gilmour Street."
References
^ Police Scotland (www.scotsman.com)
^ Paramedics (www.scotsman.com)