The Huw Merriman interview: "I think I'm actually a very bad …
10 min read1 hr
Raised in a trade union household, Huw Merriman surprised his parents by working for a Conservative Party MP in his gap year. As minister for rail and HS2, he has a unique perspective on the challenges facing the transport sector and speaks to Sophie Church about how he is tackling them. Photography by Louise Haywood-Schiefer
You might not expect a meeting between an Arsenal-supporting Conservative minister and a Chelsea-supporting trade union leader to be entirely convivial.
But when transport minister Huw Merriman sits down with Mick Lynch, general secretary of the National Union of Rail, Maritime and Transport Workers (RMT) for industrial dispute talks, they have more in common than it might seem.  
Merriman, 49, grew up in Buckingham in the seventies, to parents involved in the trade union movement. "It was quite a political household," he says. During his gap year, however, Merriman put on a suit, and went to work for George Walden, the then-Conservative MP for Buckingham. 
I'm not particularly tribal or partisan; I don't believe in spending all of my time shouting at the opposition. I think I'm actually a very bad parliamentary performer
It was only when Walden knocked on his parents' door to pick him up for work that the young Conservative's secret was outed. "My parents found out what I had been doing, and what made it even worse, was that… my mum was a teaching trade union rep. And he was also not just the MP for Buckingham, but also an education minister, so doubly worse."
Arguments ensued, says Merriman, with the atmosphere particularly febrile given the ongoing miners' strikes. "It was a very political house, and my parents felt very strongly," he says. "But I felt strongly too, so I would argue back. But… you are then sick of rowing because you have had too many rows. I realised that the way to actually get things done is by talking, by engaging, by listening and by working across the piece. And actually that way, people realise that you haven't got a particular agenda."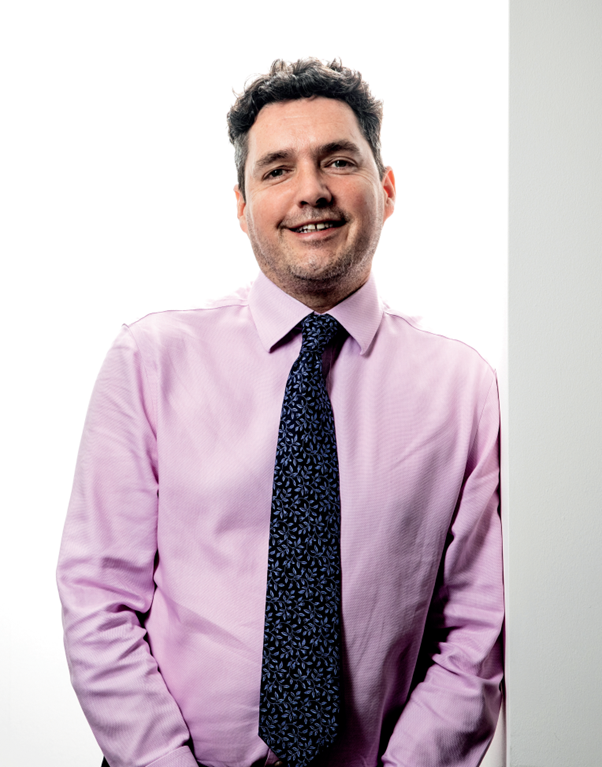 (Credit: Louise Haywood-Schiefer)
Merriman was elected as Bexhill and Battle's Conservative MP in 2015. And while he previously vowed he "probably wouldn't make a very good government minister" in comments to PoliticsHome, he was selected as Rishi Sunak's transport minister in 2022, after serving as the Transport Select Committee's chair. 
"I hope through my select committee role I've always been regarded as relatively cross-party," he says. "I'm not particularly tribal or partisan; I don't believe in spending all of my time shouting at the opposition. I think I'm actually a very bad parliamentary performer. The times when I've looked back and thought I didn't debate very well was when I just got a bit cross and actually, I think I'm much better getting on with everybody and trying to make the arguments for change and reform… than actually trying to be negative. It's just not me."
It is this ability, he says – to tackle problems by talking – that may make reaching a final settlement with trade unions on industrial disputes a reality. "My hope is that by working collaboratively with them, respecting the role they have to play, they will also respect the other arguments I've got to put down as to why settling is the right thing to do so we can move on," he says.
My parents found out what I had been doing, and what made it even worse, was that… my mum was a teaching trade union rep. And he was also not just the MP for Buckingham, but also an education minister, so doubly worse
Merriman's negotiation style seems to be proving effective. In March, members of RMT voted to accept a pay offer from Network Rail, guaranteeing them a nine per cent pay increase over two years. "We are obviously very pleased about [it] – that accounted for about 75 per cent of the industrial action from the previous year," he says. 
However, there is no end in sight to the industrial action from RMT members who work on trains. "[It] is disappointing," he says, "not least because it is a very similar pay offer that was put to the RMT members in Network Rail by the RMT executive. But that's not being put to the same members who work on the trains. So we feel that they've got every right to consider that pay offer and decide whether it's something that they wish to accept. We believe it is generous and reasonable in [the] circumstances that we are in."
In January, Merriman admitted at a transport select committee hearing that strikes had cost the economy £1bn, and that it would have cost less to settle the dispute with unions over pay and conditions months earlier. He also stressed the need to "look at what teachers are being given [and] what nurses are being given as well".
Merriman's comments prompted backlash from Lynch, who said the government had "admitted that prolonging the rail dispute was part of a deliberate strategy dictated by the government's concern to keep down the pay of rail workers, nurses, ambulance workers and teachers". 
Is Merriman acting so deliberately?
"That's not the case at all," he says, as if tired of the same old question. "I mean firstly, from my own background, my parents were both trade union reps in their workplace, and I have the respect for trade unions; their job is to look after their members, I understand that. And so it's not as if I come at this at any other angle, but one that understands trade unions and respects their movement. So firstly, I do not have any axe to grind in that regard."
He adds that bowing to strikers' demands would set a poor example for other public sector workers. "If you settle at a much larger figure, then that creates a precedent across the public sector as a whole," he explains. "That impacts inflation, that damages the economy, so you can end up with, settling – which may look on the face of it, would be cheaper to do – [but] ends up having a much bigger financial impact, not just on the railway, but on the economy at large." 
While he "would not deny" that there has been financial damage caused by the strikes, he says it is actually an issue he has leveraged in negotiations. "That is the point I keep making to the union leaders: that if we actually want the railways to be able to sustain and be paid for by the economy, then we have actually got to make sure that there is no economic damage from strikes," he says.
He adds: "[It is] interesting now being on the other side of a select committee where you can give very – what I hope [are] fulsome and open and chatty answers, and then all of a sudden, they make a really nice media headline. That was a good example of that." 
Merriman, like Lynch, says he is simply working on behalf of the public he serves. "All I think about is the lens of the passenger," he says. "But I think I can demonstrate that because as I say, where we have facilitated, then we have a situation where an offer has actually been then accepted by members. Here, we are in a situation where all we are asking to do is for the leadership to put that offer to the rest of their members, which as I say, is largely similar. And so far, they have been unable to do that."
Ultimately, it is the passenger who pays for the railways to operate, Merriman says, and the passenger who will enable further rail infrastructure to be built. However, with train prices rising by 5.9 per cent in March and trains arriving on time in the UK just 67.7 per cent of the time between July and September 2022, according to Office of Rail and Road data, he concedes "we are now in a… competition to try and get the passengers back on rail". 
The government has remained committed to delivering HS2
In comparison, the head of Ukraine's railways apologised for a lack of train punctuality, after nine out of 10 trains ran on time during President Biden's visit to the war-torn country. "Direct comparisons are quite difficult," says Merriman in response, "because I don't know what part of the timetable is still being run in Ukraine. But my focus is actually on trains running to time in this country." 
While Merriman says industrial action "makes it very difficult… to make the case" for the railways, he is hoping that reforms to antiquated rail systems will reduce delays, and tempt passengers back. 
"With Avanti, which was a service that was causing a lot of noise at the beginning of the year… we extended the contract just by six months to say: right, we know the timetable has been changed, we know you are adding 100 new drivers, 40 per cent of the timetable is coming back, but can it actually operate?" In January, Merriman says Avanti's train cancellation rate was 13 per cent, and recently dropped to just over one per cent. Now, he says things have "changed to a degree".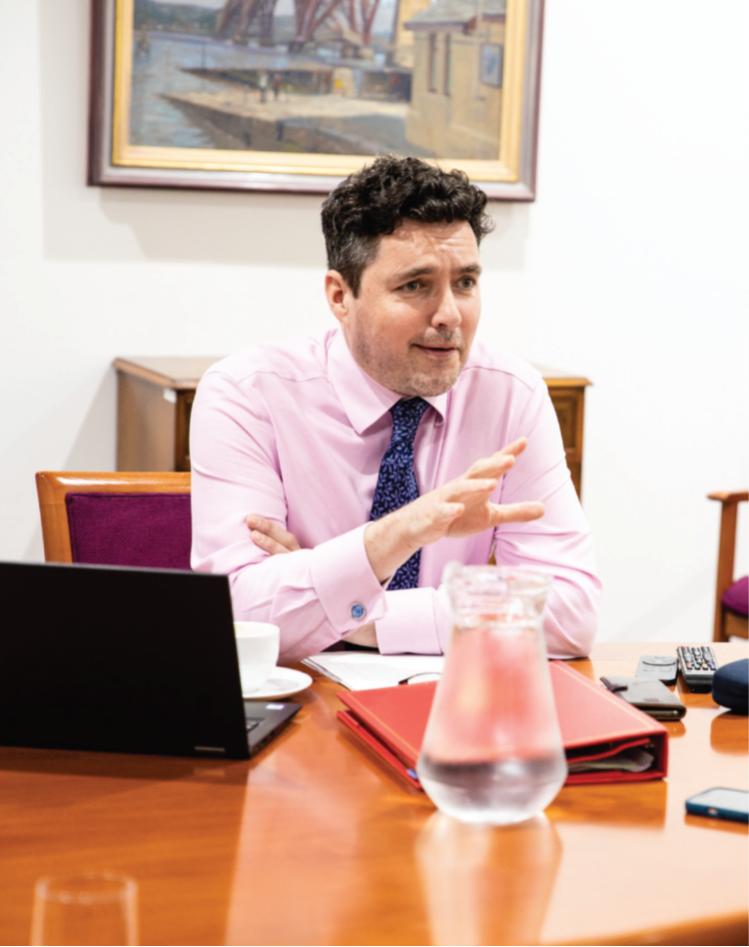 (Credit: Louise Haywood-Schiefer)
However, the campaign to regain public trust in rail services has taken a knock due to the latest delays to the High Speed Two (HS2) project. In March, Conservative MP for Elmet and Rothwell Alec Shelbrooke questioned the future of northward extensions to HS2, including to Leeds. Jibing Merriman in the Commons, he claimed that even "Mrs Miggins in the Dog and Duck knows it is not going to happen". 
In the same Commons debate, shadow transport secretary Louise Haigh told MPs she had a leaked document that "blows apart [Transport Secretary Mark Harper's] claims" that delaying HS2 would reduce costs. "His department admits what he will not," she said, "that the delays themselves will increase costs."
Merriman explains that the government has "pledges that it has to deliver in terms of managing the debt. And just like any company that wants to invest for the future, it has to actually look to the day-to-day spend and what that impact is having." In light of that, he admits the government has had to take a decision to delay phase 2a which runs up to Crewe "by two years, in order for us to actually manage our budgets. But what we haven't done is actually delayed the time period which is expected from Crewe to Manchester. So the ultimate delivery should still occur on time."
But what would Merriman say to Mrs Miggins, waiting patiently in Leeds for the "project of our day", as he describes it, to arrive? 
"What I'd say to them is it's coming – we will make sure that it does get delivered," he says, adamantly. "I understand why it has its critics, I understand how that permeates the political waters, but the government has remained committed to delivering it. If that wasn't the case, it wouldn't be delivered right now. It would have been stopped."
Whether it is pushing through major infrastructure projects, or settling industrial disputes, Merriman seems energised for the tasks ahead. "You just actually want the best for, in this instance, the railway, the railway passengers, the railway workforce… and also passengers that can get on a train, rely on it, and then tell their friends and then more people use it," he says. "That is the goal for me." 
PoliticsHome Newsletters
Get the inside track on what MPs and Peers are talking about. Sign up[1] to The House's morning email for the latest insight and reaction from Parliamentarians, policy-makers and organisations.
References