High Peak quarry firm plans multi-million-pound upgrade to rail …
Cemex is seeking permission to build a new railhead and improve train access to Dove Holes quarry, which spans 213 hectares along Dale Road[1] and sits at the end of the same freight spur out of Buxton[2] serving Tarmac's Tunstead site[3].
Limestone has been extracted from the quarry since the late 18th century, and the current operating permissions are due to run until 2042. At present, approximately 50 per cent of its output is exported to neighbouring regions by road – almost all northbound on the A6 – and 50 per cent nationwide via rail.
Mark Kelly, planning manager for the company, said: "We're excited that our application has been submitted, and proud of the work we've done so far at Dove Holes.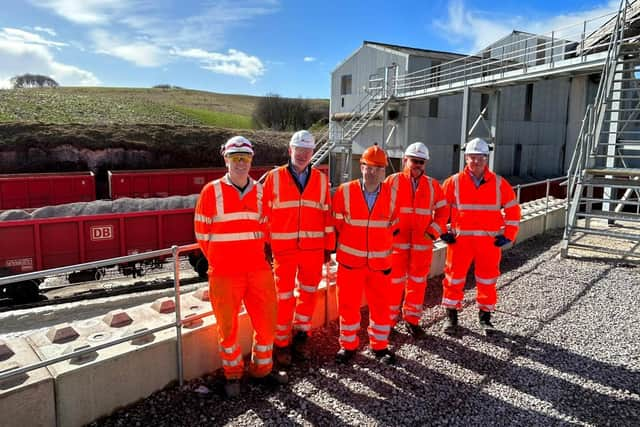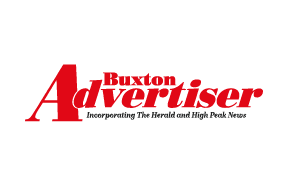 High Peak MP Robert Largan, centre, recently visited the quarry.
"These plans are a natural progression of our work at the site, and future-proof our operations as part of our drive to pursue excellence and challenge ourselves to constantly improve."
He added: "These plans would allow us to increase the amount of mineral that leaves the site via rail, taking stresses off the local road network, making our process much more efficient and reducing our CO2[4] and noise emissions."
As the application relates to the minerals sector, it will be decided at county level, rather than High Peak[5] Borough Council – although the lower authority will be consulted for its assessment.
In documents submitted to County Hall last week, Cemex sets out how upgrading the railhead with a new conveyor loading system would allow for more wagons to be loaded in one position, resulting in fewer internal train movements and mechanised handling processes.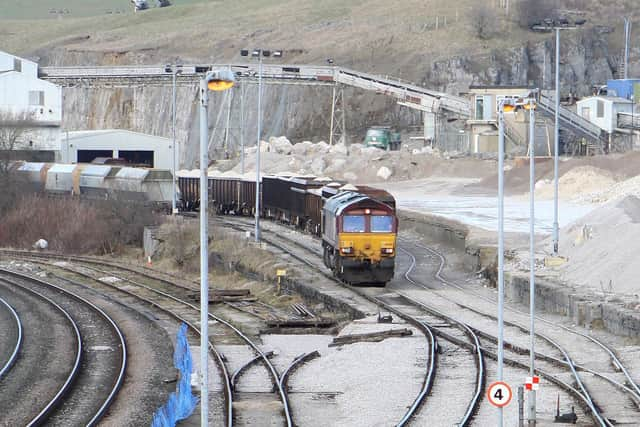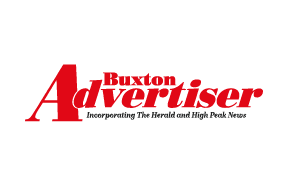 Changes to rail infrastructure Cemex's Dove Holes Quarry could potentially double the number of freight trains it is able to serve.
The changes would mainly take place on an area of land adjacent to the existing rail and loading infrastructure, to the south-west of the site, and will be accompanied by a new loadout building, stone crusher and storage for aggregates awaiting transport.
Rail exports are normally by trains comprising a number of differently graded aggregate products, loaded on two lines via overhead bins and mobile shovels operating alongside another line – meaning that one train may have to move between the lines for different parts of its load.
High Peak MP Robert Largan[6] recently visited the site for a presentation and said: "Minerals and aggregates, extracted from Dove Holes, are vital for our local economy and are essential for delivering infrastructure nationwide.
"An improved railhead will allow for more materials to go by rail than by HGV on local roads. It will also reduce the environmental impact of the operations, an issue close to my heart.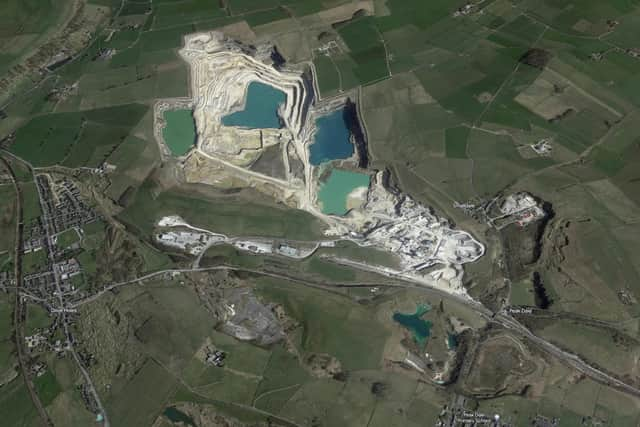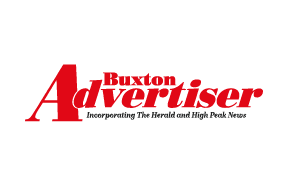 The proposed changes would take place close to the existing lines at the edge of site nearest Peak Dale. (Image: Google)
"I support Cemex's plans, and I'll be monitoring how they progress. I'm confident, from looking at their strong track record of community engagement, that the interests of High Peak constituents will be at the forefront of their minds."
References