Child among 10 in hospital after Cook Street bus crash in Glasgow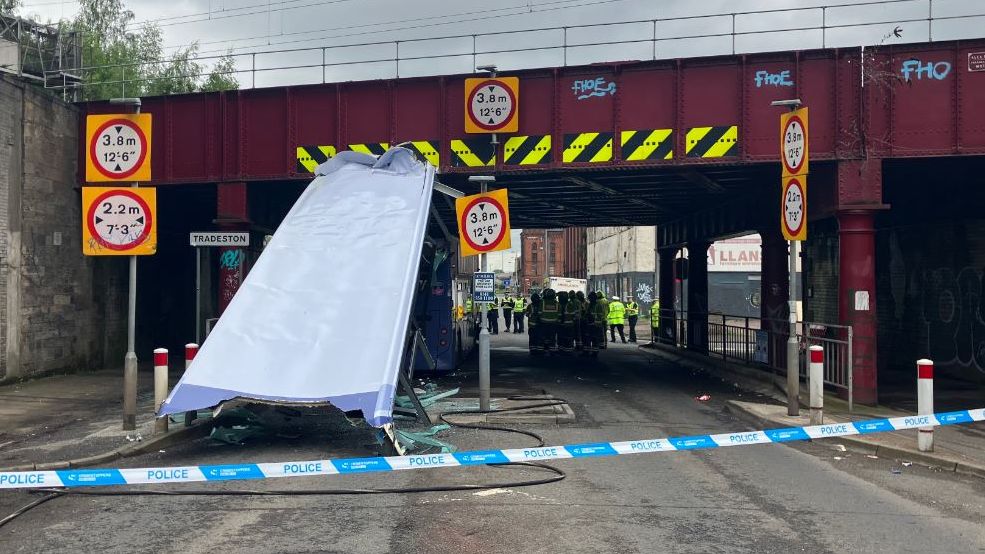 The double decker hit a notorious low bridge in Tradeston
Author: Rob Waller
Published 1 hour agoLast updated 1 hour ago
Investigations are under way after a double-decker bus hit a rail bridge and had its roof sheared off, leaving 10 people needing hospital treatment, including a child.
The incident took place on Cook Street in Glasgow's Tradeston area at around 11.35am on Sunday[1] and casualties were taken to various hospitals in and around the city.
It's understood none of their injuries are life-threatening.
The Scottish Ambulance Service released a statement on Monday morning detailing its response to the incident.
"We received a call at 11.38am on Sunday 21st May to attend an incident on Cook Street, Glasgow. We dispatched twelve resources, as well as the Special Operations Resource Team and the Trauma Team, to the scene. Five patients were transported to Queen Elizabeth University Hospital, four patients were transported to Glasgow Royal Infirmary and one patient was transported to the Royal Hospital for Children, Glasgow."
But roof ripped off
Network Rail tweeted images of the remains of the bus wedged under the bridge with the remains of the top deck roof sheered off.
Train services between Glasgow Central and Paisley Gilmour Street were affected until the bridge was declared safe again by structural engineeers.
Police said that investigations are under way.
A Police Scotland spokesman said: "Around 11.35am on Sunday May 21 2023, we received a report of a bus crashing into a bridge on Cook Street, Glasgow.
"Emergency services attended and 10 people were taken to various hospitals for treatment.
"A number of road closures were put in place until around 5pm. Inquiries into the crash remain ongoing."
Bus firm reacts
A First Bus spokesperson said: "We can confirm that one of our buses was involved in the incident on Cook St yesterday.
"We are continuing to work closely with the emergency services and our thoughts remain with those involved."
On Monday, Glasgow City Council leader Susan Aitken said the incident "must have been terrifying".
She tweeted: "The Cook St bus incident over the weekend must have been absolutely terrifying for everyone involved.
"Thanks to the emergency services for the swift evacuation. I hope all those hospitalised will be home soon, fully recovered."
Hear all the latest news from across Glasgow and the West on the hour, every hour, at Clyde 1. Listen on FM, via our Radio Clyde app, on your DAB radio, online at Clyde1.com, or say 'Play Clyde 1' on your Smart Speaker.[2]
References
^ 11.35am on Sunday (planetradio.co.uk)