Weird Alibaba: Operate your own electric towing business with this tiny tow truck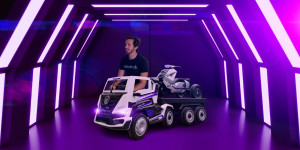 It would give a whole new meaning to the term "small business" if you became the owner and operator of a towing company using this electric tow truck. That's because despite getting with the times and swapping in an electric drivetrain, this tow truck is a bit on the diminutive side. Though there's a good reason for that -- mostly because it's built for children.
But it's just too awesome for me to pass up wanting to take my own ride in it! So fortunately for all of us, this little electric tow truck has won a highly coveted prize that it didn't even know it was in the running for: a spot as this week's Awesomely Weird Alibaba Electric Vehicle of the Week.
First of all, I love the fact that this product even exists. Like, with all the little ride-on sports cars and off-road Jeeps and other wild or aggressive Powerwheels on the market, there would be kids out there that would rather clock in at 9 AM for a union job towing the other kids around when they break down.
Imagine if as the other neighborhood children were dressing up as Superman or Batman, your kid wanted to be a municipal waste worker for halloween. "Yea, those other kids in my class may think they're heroes. But it's the hard working men and women that keep this city's waste moving orderly and systematically away from our curbs that are the real keepers of the peace." So good for you, kids that give up the flashy ride-on Corvette or Barbie's Dream Car and instead have their hearts set on double clutching that four axle beast down to the rich part of town to pick up a stranded little Timmy when his ride-on Ferrari his parents got him Christmas throws a belt and can't get service from the exotic powerwheels importer until Monday.
What? I'm not bitter.
And look, I'm not just drooling over this thing because it looks like it'd be fun to drive. I also love the features!
One of the coolest parts about it is that it's not just a knock-off Powerwheels for your kids to drive around (or for you to "test out" first to make sure it's safe). It's also a giant RC car. It comes with a remote control and you can actually drive it around remotely!
Think about how funny it would be to leave that little detail out when you give it to your kids and then surprise them by taking over the controls while they're behind the wheel. You could have your fun and teach them a valuable lesson about giving in to the convenience of connected technology despite the inherent hacking vulnerabilities that creates.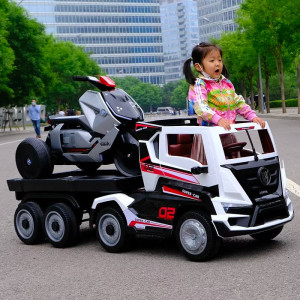 That girl is tired of your s*** and has a job to do just like everyone else, now get out of the way
The real kicker here though is the price! At just £200, how can you not buy one of these? A dumb ride-on Silverado on Amazon costs more than this and can't even tow anybody! To be fair, the weak 12V system in this electric tow truck probably doesn't have the most oomph either.
It's a far cry from a half ton truck. Hopefully it's a half dozen pound truck, at least. Oh, and can we all just appreciate that the little electric motorcycle on back is not only functional, but it's also a rip-off of a BMW CE-04 electric scooter?
Let's just hope that if one of my ill-guided readers does decide to get one of these things, that they share the details (and video) with us soon!
Me?
I'll keep working on that electric boat I have on the way from Alibaba.
FTC: We use income earning auto affiliate links. More.