Urban Growth Company boss outlines plans for 2023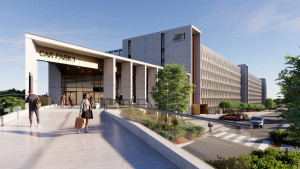 DETAILS on building projects getting under way and the ongoing work of HS2 are on the horizon in 2023, according to the top boss at Urban Growth Company (UGC). In a piece outlining plans for the year UGC's managing director, Jonathan Bretherton, also said investment to help the public and private sectors follow through on their interest will be brought forward. He said: "By bringing forward our programme of new infrastructure and local and regional transport improvements in response to the arrival of high speed rail over the next decade, we are helping to turbo charge the local economy and make it 'match ready' for the years ahead.
"In particular, as we look ahead this year, we are looking for further news about starts on specific infrastructure projects and the ongoing work of our partners at HS2. "To help bring opportunities to life off the back of these projects, we're bringing forward key pieces of investment to help both the public and private sectors follow through on their interest to make this one of the most exciting places in the world in which to locate and innovate." Looking back on last year Jonathon highlighted the deal between UGC, Solihull Council, central government, HS2 and the Arden Cross consortium to work together on a plan to deliver the GBP3.2 billion development around the HS2 Interchange station.
He also praised the plans to develop a Health and Innovation Campus at Arden Cross with Warwick University and Birmingham University Hospitals NHS Trust and the approval for the GBP95million multi-storey car park. Jonathon added: "The multi-storey car park is the key part of the game changing infrastructure needed to realise the potential of the UK Central Hub and create the jobs and opportunities we all want to see. Without it, Arden Cross would be just a station with a giant surface car park.
"By building the multi-storey car park, the UGC is facilitating the creation of a new gateway destination for the UK that will successfully attract people and businesses to the region and which will enable Solihull Council's vision for the UK Central Hub as a major driver of our local, regional and national economies.
"As 2022 proved, we have already laid much of the groundwork to bring all of the different elements we're involved with together, but we know there is more to be done.
Which is why we're so excited to look ahead and focus on what will come forward."