UK logistics and warehousing lags behind Europe on solar power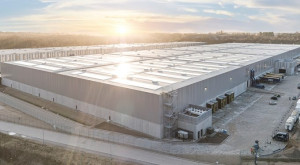 Credit DSV
By Alex Whiteman
11/01/2023
The UK logistics sector is urging government support in transitioning to solar power following the prime minister's announcement that the business energy price cap will be scrapped from April. Rishi Sunak announced on Monday that the energy support scheme, put in place after costs surged following Russia's invasion of Ukraine, would be replaced by a tiered system of discounts. Under the new system, discounts of GBP19.61 per megawatt hour (MWh) apply when wholesale electricity prices exceed GBP302 per MWh, while for gas it will be GBP6.97 for prices above GBP107.
But for energy-intensive industries, the support offered is substantially higher, with a GBP89 per MWh discount for prices north of GBP185 per MWh for electricity, and GBP40 per MWh when gas prices go above GBP99 per MWh. Despite increasing energy demands, the logistics sector was not included in the list of eligible industries for the higher discount rate. Clare Bottle, CEO of the UK Warehousing Association (UKWA), said the news would be a "blow" for her whole sector, not just those running cold storage facilities.
"Cold stores tend to be the highest energy consumers, but by definition they need the support with these costs during the summer months, rather than winter," Ms Bottle told The Loadstar. "Historically, warehouses aren't heavy users of electricity, but this is rapidly changing as the logistics industry transitions to electrification, with battery-powered forklift trucks, robotics and automation to keep up with the increased demands of e-commerce." Rather than pushing government to respond with further short-term support, Ms Bottle said the impetus for the warehousing sector was in lobbying the government to offer stronger support for transitioning the industry to solar energy.
"The adoption of electric vehicles will affect power demand across the warehousing sector too, as warehouses are the obvious place to charge freight vehicles," said Ms Bottle. A report from Delta Energy & Environment in September showed warehouse roofs in the UK offered 18.5m acres of space capable of supporting solar panels. Fully utilised, the report estimated, this space could generate 15 gigawatt hours (GWh), more than double the level the UK as a whole was generating by the end of 2021, and going far towards hitting its renewable energy generation targets. Ms Bottle said, based on figures from Germany, which increased its solar generation potential from commercial buildings by 51% in 2020 and added a further 34% in 2021, the UK is clearly behind – it also ranks lower than France, Italy, Netherlands, Spain and the EU overall in total for solar generation.
While acknowledging that neglect of the potential offered by roof space was partly the fault of industry, something UKWA was helping address, she called for government support.
Ms Bottle added: "To help make electricity bills more affordable, UKWA is lobbying for government support so warehouses can adopt rooftop solar PV, which in the long run will provide sustainable sourcing, lower costs and is ultimately greener for the environment."