Turkish airport passengers in 2022 soared over 42% to 182.3M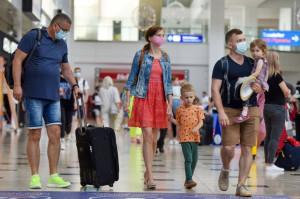 The number of passengers served by Turkiye's airports in 2022 soared 42.1% from the previous year to 182.3 million, the transport and infrastructure minister said on Wednesday. Adil Karaismailoglu said that in 2022, total air traffic in Turkiye jumped 28.4% to 1.88 million aircraft on a yearly basis, he noted. Total aircraft traffic climbed 18.6% year-over-year in December 2022, reaching 144,578, including overflights; while the total number of air passengers last month, including transit passengers, was 12.88 million, he underlined.
Compared to 2021, passenger traffic increased by 14.9% on domestic routes and by 73% on international routes. The increase in total passenger traffic was 42.1% compared to the previous year. In the same period, freight (cargo, mail and baggage) traffic exceeded 4 million in total, including 774,112 tons on domestic flights and 3.2 million tons on international routes.
The number of aircraft that landed and took off from Istanbul's mega airport – Istanbul Airport – in December reached 37,436 in total, with 8,684 on domestic and 28,752 on international routes. "We have served a total of 5.4 million passengers, some 1.1 million on domestic flights and 4.3 million international routes, in Istanbul," said Karaismailoglu. Noting that Istanbul Airport had a total of 425,897 aircraft traffic last year, 109,634 on domestic routes and 316,263 on international routes, Karaismailoglu said, "At Istanbul Airport, 15.8 million and 48.5 million passengers were served on domestic and international routes respectively."
The Sabiha Gokcen Airport, located on the metropolis' Anatolian part, meanwhile, saw some 200,034 aircraft traffic, of which 97,130 were domestic and 102,904 international flights. A total of 30.7 million passengers, 15.2 million domestic and 15.5 million international, were served at the airport. Karaismailoglu further stated that a total of 3,725 aircraft traffic operations took place at the Rize-Artvin Airport, which was inducted into service on May 14, 2022, with 524,694 passengers hosted.
He also stated that Tokat Airport, which was inducted into service on March 25, 2022, had a total of 184 aircraft and 81,046 passenger traffic.
The minister stated that 16.3 million passengers on domestic routes and 33.9 million passengers on international routes were served at airport tourism centers on the country's Mediterranean and Aegean coasts.