Trucking technologies take center stage at CES 2023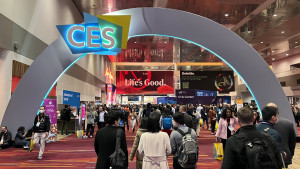 LAS VEGAS–Each year, tech companies from around the world gather in Las Vegas to showcase their latest innovations at the Consumer Electronics Show (CES). Recently, the commercial vehicle industry has had quite the footprint at CES, and this year was no different, with various autonomous truck technologies and commercial electric vehicles taking center stage. Prominent areas of advancement displayed and demonstrated included vehicle autonomy, advanced driver assistance systems (ADAS), tires, electric vehicles and electric charging infrastructure, alternative vehicle power systems, safety systems, and management systems. Sustainability and vehicle software were also common topics.
One hot topic over the course of the show was the software-defined vehicle, which is any vehicle that manages its operations, adds functionality, and enables new features primarily or entirely through software. "We saw the software-defined vehicle everywhere. This is the iPhone on wheels," Tom Tasky, VP of FEV.io, who is responsible for leading intelligent mobility and software development for connected and automated mobility solutions, including commercial vehicles, told FleetOwner. "It's going to take a while for it to be deployed … but the ability and desire in the industry is to allow it to be more configurable."
Check out some of the commercial vehicle highlights and innovations from this year's show:
Paccar showcases latest vehicle technologies

Paccar, which manufactures Peterbilt and Kenworth trucks, displayed its latest hydrogen fuel cell vehicle built with the next-gen T680 cab. This prototype features a 350-mile range. Paccar also showcased its range of advanced Level 3 DC fast chargers.
Pictured below, the T680E is a Class 8 BEV with a 150-mile range and a three-hour recharge rate. In addition to its electric innovations, Paccar also showcased a its Peterbilt 579 outfitted with lidar and cameras. The vehicle, shown below, is capable of Level 4 autonomy and is currently running pilots with Aurora throughout West Texas.
Gatik, Goodyear partnership

Goodyear Tire & Rubber and Gatik recently demonstrated in a proof of concept that intelligent tires powered by Goodyear SightLine technology can accurately estimate tire-road friction potential and provide real-time information to Gatik's automated driving system.
Gatik's medium-duty fleet will use tires equipped with tire intelligence technology powered by Goodyear SightLine and build upon Goodyear's existing connected tire management products in an effort to improve stopping distances in autonomous commercial vehicles and monitor tire pressure in real time.
Freightliner Cascadia equipped with Waymo Driver

This Freightliner Cascadia is equipped with a fifth-generation Waymo Driver. This alpha build is about 50 strong in total and the fleet is currently operating in Texas and Arizona with Uber Freight, J.B. Hunt, and others.
The beta build of this model is underway. Two years ago, Waymo Via partnered with Freightliner's parent company Daimler Truck North America to develop a redundant Level 4 autonomous truck platform for the Freightliner Cascadia powered by the Waymo Driver. Through its partnership, Daimler Truck has built an L4-ready system that incorporates Waymo technical requirements, which Waymo executives say have been "fine-tuned over several generations of autonomous driving systems" for both passenger and commercial vehicles.
Ram's electric revolution

Ram unveiled the 1500 Revolution concept, which will go into production this year and will be introduced as a model-year 2024 vehicle.
The automaker plans on electric vehicles comprising 50% of U.S. sales by 2030. Ram will be offering a portfolio of fully electrified solutions to better meet customer needs, including the Ram 1500 BEV in 2024. The entire Ram lineup will offer electrified solutions with advanced technology in the years to come.
Ram claimed the truck, in about 10 minutes, can charge up to 100 miles of range using an 800-volt DC fast charging at up to 350 kW. The charge port features Level 1 and Level 2 AC charging on the top half and DC fast charging on the bottom half of the charger. See also: Ram steps into electrified work-truck segment with Revolution 1500
The concept also features "Shadow Mode," an option for the vehicle to autonomously follow a user walking ahead of the vehicle. It is a voice-activated feature intended for when the driver needs to move a short distance on the job site without needing to reenter the truck. Ram also showcased a new inductive robot charger–or Ram Charger.
It detects the vehicle's presence and its charging needs, and automatically moves into position and aligns itself under the vehicle.
ZF's improvements to autonomy, sustainability

ZF announced new versions of its existing technologies to improve its vehicles' advanced driver assistance systems. The company has improved its ProAI in-vehicle computer, which it claims is 50% more powerful than its previous version. The company also has improved its camera technology with Smart Camera 6, capable of being used for ADAS or autonomous vehicles and having four times the image resolution from the previous generation.
To improve battery-electric vehicles' range in cold weather, ZF has introduced a new way to keep passengers warm: a heated seat belt to replace the energy-intensive method of warming the entire cabin with hot air. See also: ZF advances automated, electric technologies for commercial vehicles As winter arrives, electric vehicle ranges drop in tandem with the temperature.
EV batteries work best between about 70 and 100 degrees, and cold weather can reduce range by up to 30 percent, according to a ZF press release. The company claims the seat belt could increase battery ranges by up to 15 percent. "For the occupants, there is no difference in terms of operation when compared to a conventional belt," said.
Martina Rausch, who is responsible for new seat belt developments at ZF. "And, of course, the heated seat belt is in no way inferior to its conventional counterparts in terms of crash behavior." ZF also debuted its next-generation Level 4 autonomous battery-electric shuttle, which the company says will be capable of moving driverless in mixed urban traffic. Autonomous, electric ZF Shuttles can operate on defined routes 24 hours a day, 7 days a week, the company states.
Public transport operators can provide passengers with a mobility service even when demand is low and expand routes when they need to meet increased demand. ZF has signed an agreement with Beep, a Lake Nona, Florida-based autonomous transport company, to develop and deploy autonomous shuttles in the U.S. The agreement includes planning several thousand Level 4 shuttle vehicles.
Kodiak's new vision for AVs

Kodiak Robotics announced a partnership to integrate Ambarella's CV2AQ chip into its self-driving trucks for camera data processing.
"Our focus on building the world's safest and most reliable self-driving trucks requires us to seek out the best partners," said Don Burnette, founder and CEO of Kodiak, stated in a press release. "Ambarella's track record in building some of the market's most advanced processors makes it an ideal partner for Kodiak. Ambarella's focus on ADAS and autonomous technologies aligns our roadmaps even more closely. Lastly, Ambarella's proven supply chain adds the confidence that its technology will be available to us when we need it."
See also: Kodiak awarded DOD contract to develop autonomous Army vehicles
Innoviz innovating lidar visibility

Lidar sensor and software company Innoviz Technologies debuted its Innoviz360 lidar device. The company claims that Innoviz360 will offer increased performance while being lighter, smaller, and less expensive than previous products. According to a company press release, the new sensor's high resolution and high field of view will aid OEMs looking to implement Level 4-5 automation in a variety of applications, including trucking.
Innoviz also announced its InnovizOne lidar sensor will be used by Swiss tech startup Loxo, a developer of zero-emissions autonomous vehicles for last-mile delivery. Loxo plans to debut its self-driving delivery vehicles on the streets of Switzerland in spring 2023.
Caterpillar commands its CES booth

Construction and mining equipment company Caterpillar also highlighted its autonomous tech, centering its autonomous 100-ton Cat 777 off-highway truck at its booth this year. Caterpillar claims it operates the world's largest single fleet of autonomous trucks operating at one site, and that every day 560 Cat autonomous trucks cumulatively travel about twice the Earth's circumference without a driver.
Caterpillar featured its remote operating technology, Cat Command, by including two stations in its booth able to operate equipment hundreds of miles away.
The company also offered augmented reality experiences centered on its autonomous and sustainable technologies.