Thousands of US flights grounded due to computer glitch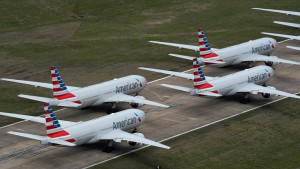 Fresh travel chaos has erupted in the US after the aviation watchdog there grounded all domestic flights on Wednesday morning due to a computer system failure. t has also resulted in delays to flights both en-route to and departing the United States. The US Federal Aviation Administration (FAA) took the decision to ground domestic flights as it worked to restore a system that provides pilots with hazard alerts and other information. Flights that were already airborne have been permitted to continue to their destinations.
"The FAA is still working to fully restore the Notice to Air Missions system following an outage," said the agency in its latest update published about midday in Ireland. "The FAA has ordered airlines to pause all domestic departures until 9am Eastern Time (2pm Irish time) to allow the agency to validate the integrity of flight and safety information," it added. President Biden was briefed this morning about the problem.
"There is no evidence of a cyberattack at this point," noted the FAA, "but the President directed the Department of Transportation to conduct a full investigation into the causes." A number of transatlantic flights from Dublin Airport departed as normal this morning and this afternoon, to destinations including Boston, New York and Miami. Flight information at JFK airport in New York shows dozens of flights to destinations across the United States now delayed.
The airport has warned passengers to check their flight status before heading to the gateway.
United Airlines said it had temporarily delayed all domestic flights and would issue an update when it learned more from the FAA.
Germany's Lufthansa and Air France both said they were continuing to operate flights to and from the United States, while the French airline said it was monitoring the situation.