Strong support across Canada for construction of national RCMP museum: heritage centre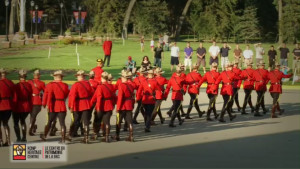 Consultations and engagement in regards to making the RCMP Heritage Centre a national museum are now complete. RCMP Heritage Centre CEO Tara Robinson said the consultations and engagements went well. "What we were hoping to do is engage Canadians and get their thoughts and perspective on what should be inside a national RCMP museum," Robinson said in an interview with CTV Morning Live Regina.
Robinson said they completed national surveys, direct email correspondence, self hosted community conversations and one-on-one interviews. "The results are overwhelmingly positive and confirm the need for a national RCMP museum in Canada," she said. According to Robinson, 89 per cent of survey respondents said it's important for Canadians to have access to a national RCMP museum that honours contributions of RCMP while also telling some complex stories.
"Nine in 10 survey respondents agreed strongly that Mounties should pay tribute to the extraordinary dedication, duty and service of generations of Canadian Mounties and civilian employees both past and present," Robinson said. A large number of survey respondents also agreed that the museum should reflect a broad and diverse set of perspectives and voices, Robinson said. Robinson said they already new they had strong support across Saskatchewan, but added that survey and consultation results confirm that Canadians across the country want to see a national RCMP museum.
Robinson said the ball is now in Ottawa's court to conduct the next necessary steps. "Over the last 18 months we put together an awesome bid to become a national museum and it shows the contributions of Mounties and why they helped make Canada one of the safest countries in the world," she said. Robinson said the bid is going to Canadian Heritage and will be going to the Liberal cabinet for review.
She said they are not sure when they will hear a decision but are hopeful it will be made sometime in 2023.
"In 2023 we mark the 150th anniversary of the RCMP, so this would be a great celebration if we were to get that announcement this year," Robinson said.