Stark warning US Stock Top?
US Inflation came in as expected at 6.5%, which is rare in a world of volatile economic data series. It is an excellent result and US inflation has most definitely peaked, but alas it remains at truly alarming levels.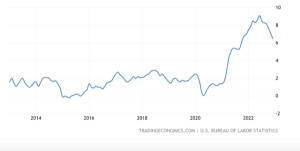 Of even greater concern was the information contained within the data release. Clear evidence of resilient and firming Services prices. The decline in Gasoline prices was a major factor.
Yet, global oil prices are already 10% to 12% off their recent lows. Meaning we could have also seen the low for gasoline and it could even go up in the next data print. Shelter/Housing prices were gaining traction and this is a major area of concern for the Fed, expecting these pressures to build through 2023.
Then there was the collapse in second hand truck and car prices. This is a very strong indication, a flashing warning light, that a very real recession is beginning to take hold. Coming on top of last week's contraction in the ISM Services PMI, it is now a reasonable forecast to suggest the USA will see negative economic growth in at least Q1 2023.
If we get negative for Q4 2022, when it is released, the USA is already in recession right now. We just haven't got the data yet? The Federal Reserve was asleep at the wheel and missed the boat entirely on inflation first up.
Now it is in a battle for its reputation survival. The worst case scenario for the Fed would be to ease off too early, only to have to chase aggressively again. They will therefore continue to hike rates at 50 point increments for another 2-3 meetings.
This is not the consensus view nor is it priced in to markets. Were the Fed to drop to 25 point increments, it would also elongate the hiking cycle substantially and without the same psychological impact it seeks to have on consumers, businesses and employment. Employment is still too high.
Services price gains are solidifying and building. The Oil price could already be headed back up. Leaving virtually zero argument for a reduction to 25 point hikes, except to mistakenly, simplistically, only focus on the headline trend.
Stocks only managed a 0.3% gain in an extremely volatile trading session. Asia will take futures markets a little higher, but significant renewed selling was emerging during the Wall Street session. The speculative universe was already long and becoming more leveraged.
Whereas all potential sellers have been waiting for this release to be out of the way.
Very large funds may again need to lighten their stock holdings as the economic picture darkens markedly.
To the surprise of many, a major top in stock prices is likely this week.