Nicola Sturgeon and Andy Burnham held talks on reviving £3bn rail link to Scotland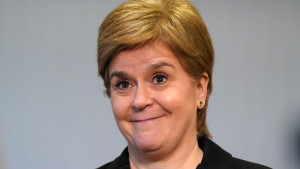 Nicola Sturgeon and Andy Burnham have have held talks about a GBP3 billion extension of high-speed rail services to Scotland, it has emerged.
In June, the SNP strongly criticised the decision to cancel plans to extend the HS2 line to Glasgow and said that Downing Street owed Scotland the price of the scrapped investment.
It emerged today that the transport link was a key point on the agenda during a summer meeting between the first minister and Burnham, the mayor of Greater Manchester, who had been visiting Edinburgh.
The 13-mile "Golborne Link" near Manchester — designed to connect the new HS2 with the West Coast Main Line that runs north to Glasgow and Edinburgh – was dropped last year as UK ministers sought cost savings.