More than 8,000 US flights delayed and over 1,200 canceled so far today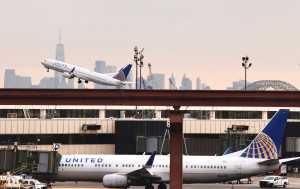 A United Airlines plane departs the Newark International Airport in Newark, New Jersey, on Wednesday. (Kena Betancur/AFP via Getty Images)
As the Federal Aviation Administration scrambled to get its systems back online Wednesday, causing nationwide delays in air traffic, the agency was operating without a permanent leader.
That's because President Joe Biden's nominee to head the organization, Phillip Washington, hasn't even received a confirmation hearing.
Washington is currently the CEO of the Denver International Airport, his first major leadership role solely focused on aviation. He previously held leadership roles at municipal transit organizations, including in Denver and Los Angeles, focused on bus and rail lines.
He has faced questions about his limited aviation experience and in September, was named in a search warrant issued as part of a political corruption investigation in Los Angeles. It sought more information related to potential favoritism in the awarding of contracts by the Los Angeles Metropolitan Transit Authority.
Because his nomination wasn't acted upon during the last Congress, Biden faced a choice this month of whether to resubmit his name for consideration or identify a new nominee. Biden renominated Washington last week, signaling the administration's continued support for him. But it remains unclear when he will receive a hearing.
The FAA has been without a permanent administrator since March, when the Trump-nominated Stephen Dickson stepped down midway through his five-year term.
Bill Nolan, the agency's top safety official, was named acting director in April.