Jobs at risk as Amazon warehouse closures announced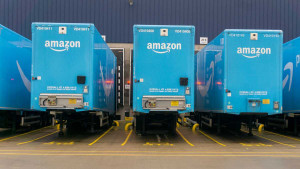 Amazon plans to shut three UK warehouses, putting 1,200 jobs at risk. The retail giant, which last week announced plans to cut 18,000 jobs globally, is expected to close warehouses in Hemel Hempstead, Doncaster and Gourock in the west of Scotland. However, it is also set to open two new sites in Peddimore, West Midlands and Stockton-on-Tees over the next three years, which would create 2,500 jobs.
Employees affected by the Amazon warehouse closures would be offered the chance to transfer to another location, the company said. It said 500 Hemel Hempstead-based workers would be offered roles in nearby Dunstable, while 400 people at the affected Doncaster site will be able to transfer to the town's two other fulfilment centres at Doncaster iPort. The 300 Gourock staff can apply to transfer to other Amazon warehouses, or will be offered retraining and reskilling support should they wish to leave the company.
A spokesperson said: "We're always evaluating our network to make sure it fits our business needs and to improve the experience for our employees and customers. As part of that effort, we may close older sites, enhance existing facilities, or open new sites, and we've launched a consultation on the proposed closure of three fulfilment centres in 2023. "We also plan to open two new fulfilment centres creating 2,500 new jobs over the next three years.
All employees affected by site closure consultations will be offered the opportunity to transfer to other facilities, and we remain committed to our customers, employees, and communities across the UK." Last week the GMB union said its members would stage the first ever strike at Amazon in the UK, taking place at its Coventry warehouse, in a dispute over pay. The union is seeking a pay increase to at least GBP15 an hour.
According to Glassdoor, Amazon warehouse workers are paid GBP11 an hour on average.
GMB's regional officer covering the Hemel Hempstead site, Steve Garelick, tod the BBC that it would be difficult for some of the affected staff to take work in a different location.
He said the news was a "real kick in the teeth for Amazon staff who worked themselves into the ground during the festive rush".
"Hard-up Amazon workers can't suddenly be expected to up sticks and move to a different fulfilment centre which may be many miles away," he said.
Latest HR job opportunities on Personnel Today