Ford adds vintage pickup truck images to public website for free downloading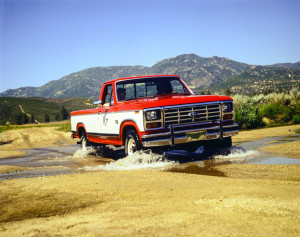 Ford Motor Co. unveiled images so rare and popular for public viewing in June that its website crashed. Now, a batch of coveted vintage photos of the best-selling F-Series trucks has just posted online to recognize the 75th anniversary of the iconic pickup. The company hopes to avoid drama this time by doubling computer server capacity of the Ford Heritage Vault site.
Less than a year old, the online archival site has triggered an unexpected response. Free access to some 9,000 images of classic Ford, Lincoln and Edsel vehicles and vintage sales brochures (including Mustang, Bronco and F-150) have attracted views and downloads from hundreds of thousands of car collectors and gearheads since going up, Ford archivist Ted Ryan told the Free Press. "We expected heavy, heavy usage and then decline," Ryan said. "Instead, we're averaging 3,000 downloads a day and 3,500 users a day."
Ford Heritage Archive site:Archivist warned everyone photo release would be popular. No one believed him Electric vehicles: Federal rebates are expected entice buyers.
What to know before you buy. Since June, the archive vault has attracted visitors from 167 countries, Ryan said.
Ford history on display online
This is all part of a massive effort by Ford to make its product history more accessible to people who love and appreciate the automotive industry and what it has contributed to the transportation revolution. The website includes brochures and advertising campaigns and depicts how car design and language have evolved.
"I have this mental image of a car club in Finland or Croatia discovering the site and sharing the URL around to its members as they dive in," Ryan said. "This is the ultimate case of word-of-mouth marketing keeping constant traffic to the site. If you build it they will come... and tell their friends to come as well." During Thanksgiving week, the No.
1 country accessing the site was Finland. "I was stunned. Finland?" Ryan said. "That week, we averaged 3,000 downloads.
America was eating turkey and not doing anything." Ford has rolled out access and new content for various countries, with the U.S. being first in June 2022. After the site launched in Britain, the company saw 500,000 searches done and 125,000 downloads, Ryan said.
Top Gear, Britain's bestselling car magazine, ran a story Dec.
8 that warned: "Don't blame us if you end up wasting your day trawling through a trove of classic Fords." Gearheads in South Africa and Australia have responded strongly, too. Road test: The Ford F-150 Lightning and I took on the bomb cyclone.
Here's how it went. Electrified:Ford makes classic pickup electric in surprise one-of-a-kind F-Series truck reveal Because of privacy laws in California and certain countries, Ford cannot track specifically who visits the site or which images they download, Ryan said.
Concern about privacy protection initially held up the project because Ford lawyers were so concerned. But the company found a way to make content accessible and protect user privacy at the same time, Ryan said.
What's new on the Ford Heritage Vault site?
This week, in celebration of the 75th anniversary of the F-Series, the site has revamped its homepage and added historic truck images dating back to 1947, along with hundreds of product brochures. "We've had a great run with product photos and brochures," Ryan said. "We've filled a niche that wasn't there.
And we know there was a pent-up demand for this." In coming months, Ford will launch more international products on the site. The team has to get the images digitized, scanned and catalogued into the archive system before going online.
Currently, historical Ford photos and brochures and letters are kept in a temperature-and-humidity-controlled building in Dearborn. "The number of man hours needed would surprise you," Ryan said. "Later this year, look for concept cars and then different content, like press releases and publications." Basically, he said, every single thing a kid wants or needs for a high school paper on Ford Motor Co., "I've got them covered.
We've got everyone covered." Go to https://fordheritagevault.com to find the searchable archives site. Contact Phoebe Wall Howard: 313-618-1034 or [email protected].
Follow her on Twitter @phoebesaid.