Pothole breakdowns hit record high, says RAC – with nearly 6000 …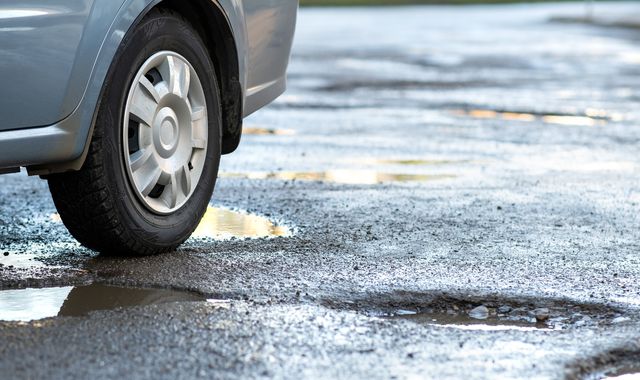 Cars breaking down because of potholes has reached a record high, figures from the RAC suggest.
The automobile company said it received 5,978 callouts to breakdowns over roads they say were in a "substandard state" between July and September.
The quarterly figure was the highest the RAC has ever recorded since they started collecting data in 2006, and is a jump of 46% from the same period last year, which saw 4,085 incidents.
RAC head of policy Simon Williams said the company's analysis of breakdowns "is sadly once again showing that the substandard state of the country's local roads is causing a world of pain for drivers, let alone those on two wheels".
He added: "Fortunately, the government has promised £8.3bn for local highways authorities which should give them the certainty of funding they need to be able to plan longer-term road maintenance work.
"We very much look forward to finding out exactly how the money will be allocated. We have long argued that it's not just a question of filling potholes, it's about getting the roads in the worst condition resurfaced.
"Then, it's vital that more councils start to make greater use of surface treatments which can cost effectively extend the lives of these roads."
In October, after scrapping the HS2 railway project north of Birmingham, the government said it would redirect billions to "fix the blight of potholes on roads up and down the country".
The RAC also cited data from garage repairs, which said that drivers on average are paying £440 on vehicle repairs if their car needs fixing after hitting a pothole.
Vehicles can have shock absorbers damaged, suspension strings broken and wheels distorted by potholes.
In October, an RAC survey found that nearly half (49%) of drivers said the condition of local roads was their biggest motoring worry.
And in July, AA said they responded to 50,079 callouts to vehicles stranded due to faults likely caused by potholes, in what was a five-year high for the firm.

(c) Sky News 2023: Pothole breakdowns hit record high, says RAC - with nearly 6,000 callouts over 'substand[1]
References