Flying Scotsman coming to the Strathspey Railway's Steam Gala
Click here to sign up to our free newsletters!
[1]
Sponsored Editorial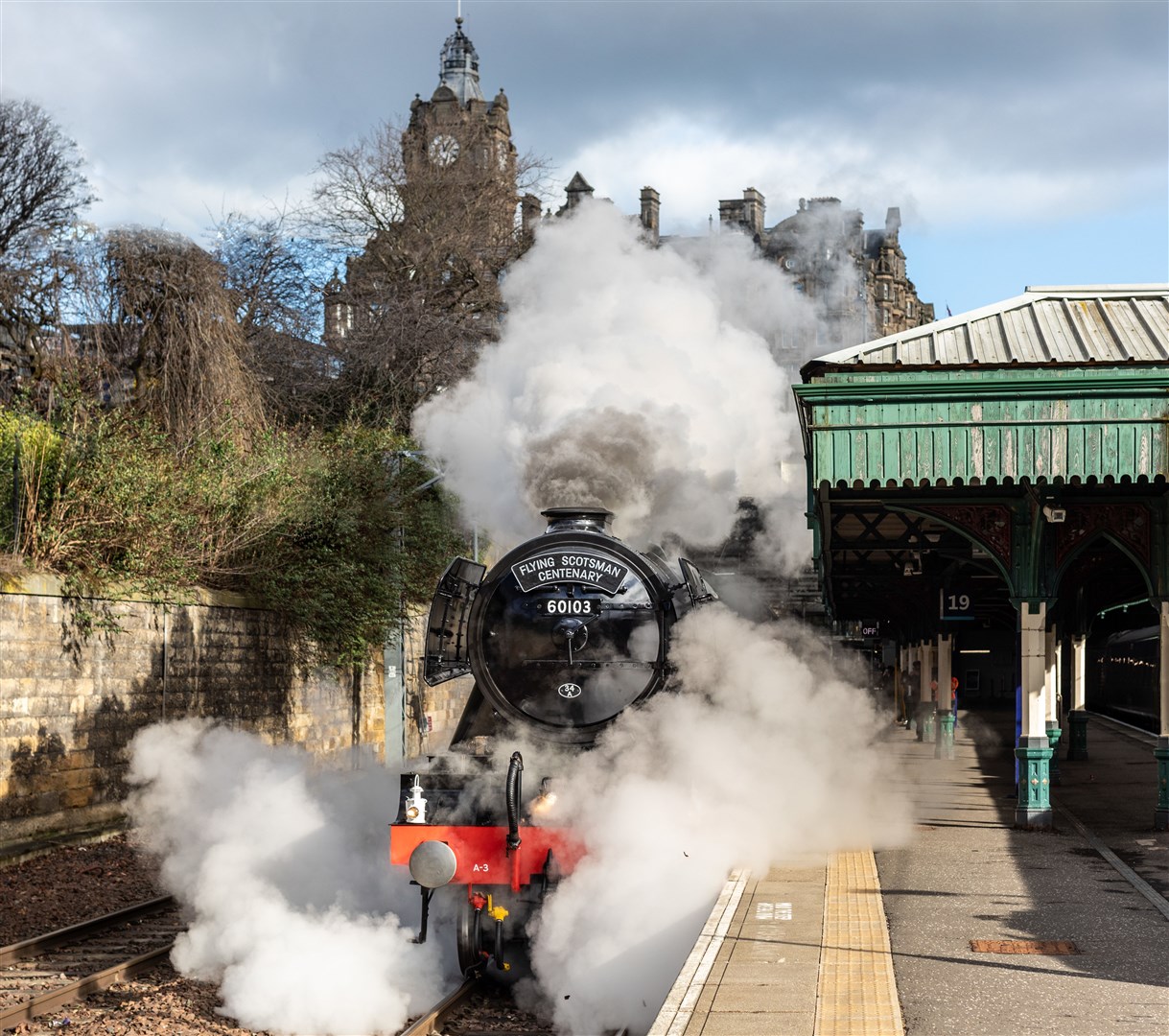 Flying Scotsman at Waverley Station Edinburgh for the Centenary Celebrations of the iconic steam locomotive.
Preparations for the Strathspey Railway's Steam Gala in September are coming along famously – and they don't come more famous than 'Flying Scotsman'.
From September 15, steam lovers have the chance to "ride behind the record-breaker". Locomotives simply don't come any more legendary than:
The first ever non-stop haul between London and Edinburgh (1928), achieving 100mph (1934), a non-stop 422 miles (in Australia, 1989) and serving still as the oldest mainline locomotive working on the national network.
It's a fitting way for the Strathspey line to celebrate 45 years since its resurrection – brought back to life in 1978 by a heroic band of volunteers. The restored section of the original Highland Railway mainline lets you travel back to when steam whistles blew, carriage doors slammed shut and there was a familiar click-clack rhythm of the rails, as the train travels along the track. Setting off from Platform 3 at Aviemore, the railway follows a 20-mile round trip through moorland, woods and alongside the meandering River Spey, amid the stunning backdrop of the Cairngorms.
Steam lovers will ride in style when the legendary loco hits the gala running on Friday, September 15. On Saturday 16 and Sunday 17, number 60103 will be on static display in light steam, attached to the LNER Coronation Beavertail observation car, where visitors will be able to walk through the corridor tender and visit the footplate.
It will also run on Saturday 23 and Sunday 24; and again on Saturday 30 and Sunday October 1.
Owned by the National Railway Museum in York, the class A3 Pacific express locomotive was designed by Sir Nigel Gresley, the first built by the newly-formed London & North Eastern Railway, entering passenger service on February 24, 1923. It was named 'Flying Scotsman' after the daily 10am express from London's King's Cross to Edinburgh Waverley.
Flying Scotsman
Judith McNicol, director of the National Railway Museum, said: "We created Flying Scotsman's centenary programme to ensure as many UK people as possible can take part."
Strathspey Railway Company chairman Doug Scott said: "What a fantastic opportunity to have 'The Record Breaker' here in the Highlands during her Centenary Year. The Strathspey Railway is absolutely delighted and looks forward with pleasure and great pride to her stay with us."
Tickets for the Flying Scotsman Steam Gala are now available to purchase online. Each provides an opportunity to step onto Flying Scotsman's footplate to get a closer look at the controls.
The Bon Accord Steam Engine Club will be displaying their unique collection of road vehicles including three showman's engines and steam traction engines, steam rollers, and steam lorries. This is a unique opportunity to see 'Flying Scotsman' close up together with some of the best preserved road and rail steam traction and motive power, together in one location. Music will be supplied by a steam organ and the traction engines will parade through Boat of Garten village on both days, Saturday 4.30pm and Sunday 3.30pm.
There will be a variety of outside catering providing hot food and cold drinks.
Admission at Boat Station is: adults and seniors £12, under 15s £6.00 and under 5s free. Tickets are now available to book online[2], or they can be bought at Boat Station on the day.
There is no parking at Boat Station. The railway has arranged for a car park in a field at the other side of the river Spey. Vintage MacBraynes buses will operate a shuttle service between the field and station.
During the gala weekend (16th & 17th), the railway will be operating an hourly timetable, two-train service offering Standard Class Day Rover tickets. One-day Rover ticket: adult and seniors £30.00; child £15.00; children under 5 travel free. There will only be a trolley catering service operating. After picking travel tickets up at Aviemore, you may step aboard or alight at any station on our line: tickets are intentionally not timed for a specific service. On Saturday trains will leave Aviemore on the hour with the first train departing 09.00hrs and the last train at 17.00hrs which will return to Aviemore at 18.40hrs. On Sunday trains will leave Aviemore on the hour with the first departure at 10.00hrs and the last train at 16.00hrs, returning to Aviemore at 17.40hrs.
On days when Flying Scotsman is running, (15th, 23rd, 24th, 30th, 1st), visitors can 'Ride Behind the Record-Breaker' with departures at 09:00, 11:00, 13:00, 15:00 and 17:00 where there's plenty opportunity to ride behind the famous locomotive. A second train will be running simultaneously, with another locomotive, departing Aviemore at 10:00, 12:00, 14:00 and 16:00.
Budding steam loco drivers will have an opportunity to test their skills as a driver on The Royal Deeside Railways' steam locomotive 'Bon Accord'. 'Bon Accord' will also be doing demonstration freight shunting in the yard at Boat.
For more information visit the railway's website www.strathspeyrailway.co.uk[3]
Do you want to respond to this article? If so, click here[4] to submit your thoughts and they may be published in print.
References
^ Click here to sign up to our free newsletters! (www.strathspey-herald.co.uk)
^ Tickets are now available to book online (www.strathspeyrailway.co.uk)
^ www.strathspeyrailway.co.uk (www.strathspeyrailway.co.uk)