Details of three serving PSNI officers posted on bus shelter were 'incorrect'
Police have commenced an investigation into the matter.
PSNI Assistant Chief Constable Chris Todd previously said that a poster containing details of three serving officers was placed in a bus shelter on Chapel Road in Dungiven on Thursday night.
However a re-issued statement says a banner "claiming to contain details of three serving officers" was erected in the town.
The senior officer previously said those affected were made aware of the incident and insisted the force recognises the impact it may have on them and their families.
"This was a clear attempt to intimidate police officers, staff and their families but police can confirm that the information contained on the poster is incorrect," the senior officer clarified on Friday night.
It comes after a councillor revealed that a serving police officer is distraught after the poster connecting three people to the PSNI was put up.
Sean McGlinchey said another of those named had no links at all to the PSNI, while the third had left some time ago.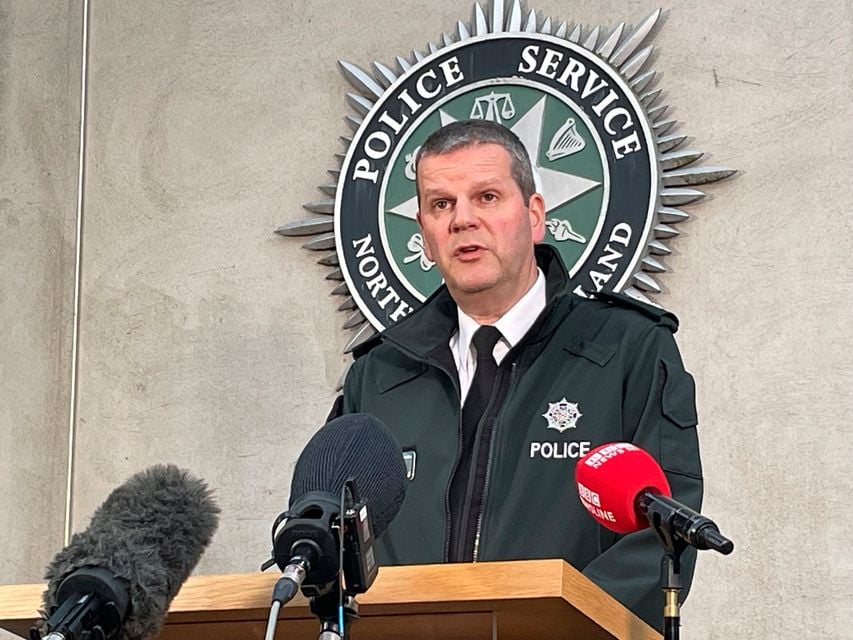 The Sinn Fein representative, who has spoken to the three families involved, said he had been told by one of those named that they had no connection to the PSNI, while another had left it earlier this year.
He told the Belfast Telegraph: "One of them was absolutely never in the PSNI; no connection to the PSNI and nothing to do with them. They are really distraught over this.
"The second family I met, the person was a serving PSNI officer and had resigned six months ago because she was disillusioned with the type of support police got in the community. She left the PSNI and is now pursuing a different career.
"The third family, the person is a serving PSNI officer. I met with them to show that the community support is there for them.
"I left them there and their mother especially is distraught. They are distraught. There's a bigger family connection here, it's not just the individual affected, and it's caused a lot of distress and concern within the village.
"I would like to stress that Dungiven is a thriving, cross-community group. This list does not represent this community." An investigation has been launched into the incident which comes after details of 10,000 police officers and staff were mistakenly released to the public by the PSNI and published online last month in response to a Freedom of Information (FoI) request.
Mr Todd has insisted the safety and welfare of all officers and staff "remains our priority" and confirmed "additional security and reassurance patrols have already been implemented across Northern Ireland as part of our organisational response".
"We have commenced an investigation into this matter and I appeal to anyone with any information relating to this incident to contact police on 101.
"We are particularly keen to hear from anyone who was travelling through Dungiven last night and who has any dash cam footage."
City of London Police Assistant Commissioner Peter O'Doherty has been appointed to lead an independent review into the data breach on August 8.
The incident sparked anger among many police officers and staff who felt their safety had been compromised by the publication of the data online.
One man – Christopher Paul O'Kane – has been charged in relation to the breach.
The 50-year-old from Main Street, Feeny appeared in court on August 21 facing charges of possessing documents or records likely to be useful to terrorists and possession of two mobile phones for use in terrorism.
The publication of the details – as well as two further data breaches in Newtownabbey and the M2 motorway – came just weeks before a High Court ruled two junior officers had been unlawfully disciplined for their actions during an arrest at a Troubles commemoration.
The ruling has heaped further pressure on PSNI Chief Constable Simon Byrne, who said following a lengthy Police Board meeting on Thursday night that he would be appealing the judgement.
A number of politicians have called for his resignation this week, while Mr Byrne could also be set to face a number of no confidence motions from various police trade unions next week.