Answers needed over how elderly couple died in flooded road …
Andre Rebello, senior coroner for Liverpool and Wirral, also said he wants a monthly update report from detectives at Merseyside Police who are investigating the deaths of grandparents Elaine, 76, and Philip Marco, 77.
Mr and Mrs Marco died days before their 54th wedding anniversary when their black Mercedes drove into floodwater in Queens Drive in the Mossley Hill area of Liverpool, at about 9.20pm last Saturday, August 26.
During a short hearing at Liverpool coroner's court where inquests into their deaths were opened and adjourned, brief details were given about the incident.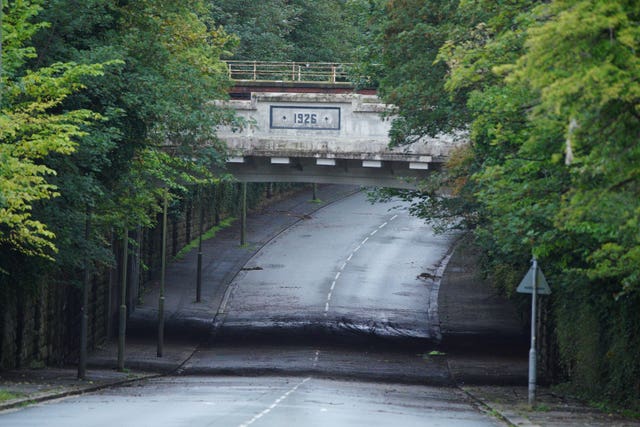 A view of Queens Drive in the Mossley Hill area of Liverpool where Mr and Mrs Marco died (Peter Byrne/PA)
The court heard emergency services were first called by members of the public at 9.22pm reporting a vehicle submerged in water on the road going under the railway bridge with people believed to be in the vehicle.
Police, fire and ambulance crews responded with firefighters locating the body of Mrs Marco. She was given first aid at the scene and then transported to the Royal Liverpool University Hospital where she was pronounced dead, the court heard.
Searches at the scene continued and the black Mercedes car was located and the body of Mr Marco also found. He was also treated at the scene and taken to the same hospital where death was confirmed.
Their identities were confirmed by their sons, Joshua and Simon.
Mr Rebello said: "This is a complex investigation. Clearly there are questions that will need to be answered with regard to the highway authority, the system of work, maintenance of the road, vigilance with regard to inclement weather."
The coroner also said liaison will be need with United Utilities, the area's water supplier and Network Rail, responsible for the railway bridge over the road.
He added: "Inquiries will need to be made with regard to the history of this road and lessons learned from previous experience, particularly from residents of the area and that will all take some time.
"It would be premature of me to identify any other interested parties whose actions or inactions might have caused or contributed to this incident. It's very important we allow police to get on with their inquiries.
"If it appears there are matters that need to go into the criminal jurisdiction, then so be it."
Mr Rebello adjourned the inquest hearing until next year and asked coroner's staff to pass on his condolences to the Marco family.
Earlier, the hearing was told Mr Marco was originally from London and his wife from Liverpool and both were retired caterers.
In a statement after their deaths, the couple's family said the "only comfort" was that they were together to the end.
Friends described them as a "kind and generous" couple whose catering business was popular in the local Jewish community they were part of.
"The family are arriving – from America and Australia to mourn their loss."
Mr and Mrs Marco will be buried later today. A further preliminary inquest hearing is scheduled for February 27 2024.
The road where the incident took place will be closed for some time, Merseyside Police have said.