Metro Mayor 'proud' more frequent trains can run from Monday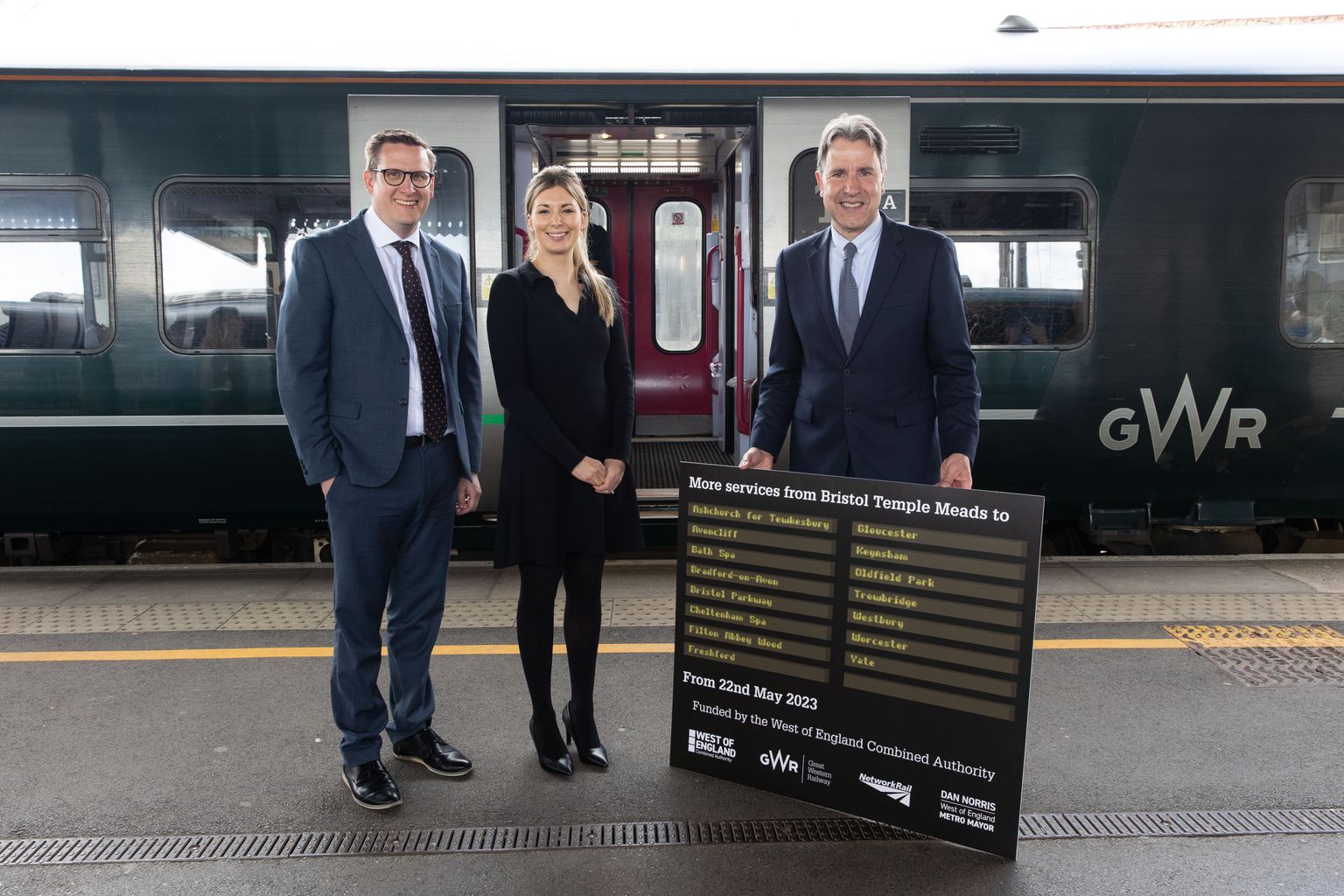 The extra trains are part of a £7 million package from the West of England Mayoral Combined Authority - and delivered by Great Western Railway
Author: Oliver Morgan
Published 6 hours ago
Metro Mayor Dan Norris says he's 'proud' that more regular train services are coming to the Westcountry from Monday (May 22).
It's part of a £7 million package from the West of England Combined Authority and means trains between Bristol and Gloucester will be every half an hour.
Over the next five years there'll be seven brand new stations opening across the region - including North Filton, next to the new arena.
More trains will be running from Temple Meads to Westbury and Gloucester benefitting those in Keynsham, Yate and other West of England communities.
Trains between Bristol and Gloucester will run every 30 minutes - departing from Temple Meads and calling at Filton Abbey Wood, Bristol Parkway, Yate and then on to Gloucester.
There will also be trains every 20 minutes between Bristol and Westbury. These will call at Keynsham, Oldfield Park, Bath Spa, Freshford (hourly) and then on to stops between Avoncliff and Westbury.
The Gloucester services also extend to Worcester once an hour and the Bristol to Westbury services will include more trains to Salisbury and then on to Southampton - improving West of England connections for both business and pleasure with neighbouring regions.
Metro Mayor Dan Norris said "I'm proud of this sizeable investment from my West of England Mayoral Combined Authority which means residents in Yate, Oldfield Park and other brilliant West of England communities will benefit from more frequent rail journeys.
"Delivering for local people is what this is all about – improving public transport is so, so important to help people get from A to B in the West of England, and to better connect our amazing region. And it's vitally important if we're going to meet our ambitious West of England net-zero-by-2030 target."
Tom Pierpoint, GWR's Business Development Portfolio Director, said: "It's great news that we're able to double services between Bristol and Gloucester to every 30 minutes, with hourly services continuing to Worcester, and increase services between Bristol, Bath Spa and Westbury as part of the next stage of the MetroWest programme.
"These enhancements have been made possible with funding from the West of England Combined Authority. Communities across the West of England and beyond will benefit from more frequent journeys, helping take cars off the road and improving opportunities for jobs, business and leisure."
Daniel Round, industry programme director for the West of England at Network Rail, said: "We've been working really closely with the West of England Combined Authority, the Department for Transport, GWR and others to rollout these MetroWest service improvements.
"These services would not be able to be delivered without major infrastructure investment that has taken place in the last few years, including Bristol area resignalling, the Bristol East Junction upgrade, and redoubling the tracks between Bristol Temple Meads and Filton Abbey Wood. These projects amount to more than half a billion pounds invested in the region, providing vital capacity which is now being used for new and extended train services for passengers."
The new services are being delivered in partnership with Great Western Railway and Network Rail and is part of a wider package of improvements across the rail network here in the West of England.
Part of the plans include seven new stations – including in Ashley Down, North Filton next to the new arena, and at Henbury - over the next five years.
First for all the latest news from across the UK every hour on Hits Radio on DAB, at hitsradio.co.uk and on the Hits Radio app.[1]
References