US Unveils Plan to Slash Transportation Emissions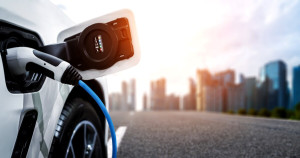 Several US government agencies on Tuesday unveiled a blueprint to cut carbon emissions from the transportation sector by 80%-100% by the middle of the century, with potentially existential implications for the US refining industry. Speaking to reporters during a briefing late Monday, senior Biden administration officials said their plan to achieving that goal approach is three-pronged: improve urban planning to promote walkability and cyclability; invest in more efficient mobility models such as public transportation; and focus on transitioning to zero-emission fuels and electric vehicles (EVs). That last goal is the most significant, according to the document, which was prepared by the US Department of Energy (DOE), the Environmental Protection Agency (EPA), the Department of Housing and Urban Development (HUD), and the Department of Transportation (DOT).
"Transitioning to clean options is expected to drive the majority of emissions reductions," the blueprint reads. "Given the broad array of vehicle types, technologies and usage patterns, a successful transition will require various vehicle and fuel solutions and must consider full life-cycle emissions." One senior official put it more starkly during the briefing. "The goal that we have laid out [is] nothing short of eliminating GHG emissions from all of transportation," they said. "Every mode.
Cars, trucks … planes, maritime." Big Implication, Little Reaction Transportation fuels currently account for over 60% of refinery yields in the US, meaning the blueprint's goal threatens to dramatically restrict some two-thirds of the market for domestic refiners.
However, the downstream so far seems relatively unconcerned. A spokesperson for the American Fuel and Petrochemical Manufacturers (AFPM), which lobbies on behalf of the refining industry, told Energy Intelligence that no one was available to answer questions on the blueprint. "We've got a lot of folks glued to the EPA [renewable fuels standard] hearing today so it'll be difficult to have a conversation," they said.
The AFPM invited questions by email but had not responded as of press time. Queries to Valero Energy and Marathon Petroleum also went unanswered. Broad Strokes
Although it is thin on policy specifics, the blueprint reiterates the Biden administration's target of hitting 50% of new US auto sales being zero-emission by 2030. It stops short of advocating a ban on internal combustion engine (ICE) vehicles but says the government will look to ensure they are maximizing efficiency. The strategy rollout comes as the EPA is working to finish its clean car emissions standards, which are due out in draft form in March.
Many refiners have already started shifting their focus from traditional petroleum refining to other segments, and the industry just went through a significant capacity rationalization that is set to continue into the new year.
Marathon Petroleum, HF Sinclair and other independent players are converting some of their facilities to produce renewable diesel and sustainable aviation fuel, for example, while Phillips 66 is doubling down on natural gas liquids and petrochemicals.