New jobs pledge with filters factory uplift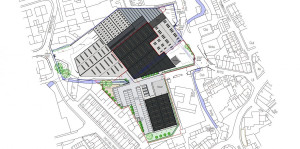 AN extra 50 jobs could be created at an East Lancs filtration specialist after an GBP8.7m investment plan was given the nod by councillors. Bosses at Filtrox Carlson, in the Butts, Barnoldswick, wanted to partly demolish part of their premises and construct a new two-storey extension. The firm, which provides filter equipment for the drinks, olive oil, chemicals and science industries had faced concerns had been raised about car parking for more workers, the potential impact on Barnoldswick town centre of increased traffic, HGV lorry movements and foreign drivers not following agreed routes.
Five letters had been sent to Pendle Council, raising worries including increased traffic, the impact on an allegedly unsafe bridge in Butts, a nearby play park, a water culvert below the site and the need for additional landscaping. The site has been home to the filter business since 1950, originally founded in the 1920s by John C Carlson. Today it is part of the global Filtrox firm.
Its filters are used in beer, wine, spirits and orange juice processes along with other uses. Management had applied for planning permission to demolish some structures at the plant and build a two-floor infill extension, a new block for employment use and a car park. The old mill there is surrounded by three conservation areas but the industrial site itself is not part of any heritage area.
Paul Hirst, factory's managing director told a West Craven area committee meeting: "The business wants to expand on the site rather than relocate and hopes to do the work in May 2023. "This plan would safeguard jobs and create more employment. It is an GBP8.7million investment, would provide a GBP3.7million economic boost each year, would reduce unemployment and boost business rates paid top the borough council for public services."
Cllr David Whipp said: "Lorry movements from two yards at the site have been problematic. This has been raised by some residents. There is a repeat-problem from drivers who do not know Barnoldswick or perhaps do not speak English.
They might just 'rock-up' and create traffic problems. "We have looked at putting up multi-lingual direction signs in the past. I have spoken to drivers in the past.
They may be from Spain or elsewhere in Europe. It's not easy. How will HGV movements be improved in future?
A route management plan might be helpful."
Councillors voted to approve the plan and look at changing the condition regarding the numbers and types of parking spaces.