'It's a long-term payoff': Alternative fuels for transport industry highlighted at Regina tech conference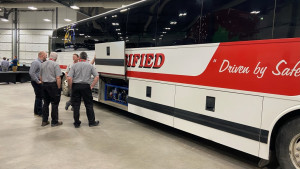 A conference in Regina is providing education on ways the transport industry may contribute to reaching zero emission targets in the province. The Saskatchewan Trucking Association (STA) hosted 'A pathway to zero emissions' education day to share awareness about Saskatchewan's plans to reach federal carbon targets. The event also showcased the technology that exists that could make truckers a part of the plan.
One part of the showcase was a dual-fuel coach bus. The hybrid bus's alternate power source is not electricity, like a traditional hybrid vehicle, but hydrogen. "It's basically water," Rebecca Goldsack, Diesel Tech Industries' (DTI) COO, explained. "It reduces your [greenhouse gases] and it can be a clean-tech solution."
DTI retrofits diesel engines to use hydrogen as a fuel source through a multi-port injection system. The system injects hydrogen into the intake stream instead of fuel, which changes the chemistry inside the combustion chamber. Therefore, the emissions put out by the vehicle are cleaner.
Truck owner and operator Evan Grant plans to install the system onto his truck to help him limit carbon emissions. He said the cost to retrofit his truck would be around £50,000 but in the long run, he could save so much more. "As diesel prices increase, there's carbon tax on it and if we can displace diesel with hydrogen, that helps," he said. "Plus, the added benefit of low maintenance costs, better operation in winter climates and others, it's a long-term payoff."
Download the CTV News app to get local alerts sent to your device
Goldsack said hydrogen is easily accessible and cheap to manufacture, making it a great alternative to diesel.
"You can get your [return on investment] in one year," she said. "It really allows for the bridging of the gap between the industry and early adopters to de-risk the system. Then you're ultimately making the Earth cleaner." The STA said there is a misconception the trucking industry is unwilling to adopt new technologies to help reach the carbon neutral targets set out by federal and provincial governments.
"Trucking is greener than it's ever been," said executive director Susan Ewart. "Companies have strategies around this and they're very interested in where this technology can take their business." Nearly half a million heavy-duty trucks drive on Canadian highways per day. Grant encouraged owners to educate themselves on how green tech can help them, and the planet.
"If we don't start transitioning away from a carbon-based fuel and don't use those fuels efficiently, it's going to hurt whoever is not adapting to the new technology," he said.