Antonov delivers automotive machinery to Canada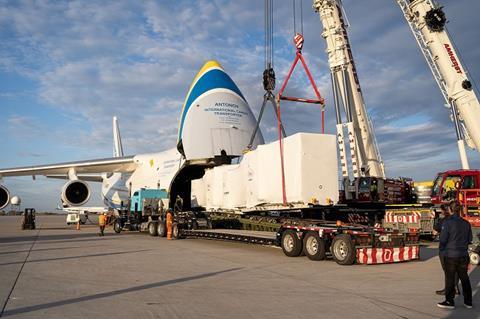 169 tonnes of equipment was delivered across two AN-124-100 flights. The consignment comprised three machines measuring 9 m long, 3 m wide and 3.7 m high, plus two wooden cases. Two mobile cranes were used for the loading and offloading process, as well as Antonov's loading ramp system that is designed to handle heavy and oversized loads.
According to Antonov, the ramp can hold a single piece of cargo weighing up to 150 tonnes, with a maximum height of 4.10 m. Olha Danylova, commercial executive, Antonov Airlines, said: "The peculiarity of CNC machinery is its dimensions. It is narrow and high.
Therefore, to put it on the loading ramp and secure it inside the aircraft it was necessary to design a special transport frame. The frame had to be universal to use it for the series of scheduled flights. The light weight was the vital requirement for the frame due to the limited payload for transatlantic air transportation."
Antonov said the CNC machinery will be used to manufacture electric vehicle parts.