A mammoth task to bring 150 tonne cargo by road from Sligo Port to Ballaghaderreen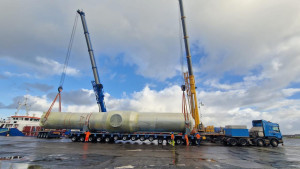 In what has been described as a 'one in a million chance' over 115 tons of cargo was transported from the Sligo port to Ballaghaderreen last Thursday morning (January 5). ichael Keaney, owner of North West Shipping Services, outlined for The Sligo Champion the process of delivering large cargo of units for Aurivo milk plant from Burgas, Bulgaria, through Sligo port, to Aurivo Animal Feeds in Ballaghaderreen, Co. Roscommon. The job, which Michael stated was 'a big deal for Sligo', required permits from the local authorities of Sligo, Mayo, and Roscommon, the assistance of the ESB, a litany of large cargo trucks from Whitten Road Haulage, as well as gardai escorts including a jeep, motorbike, and squad car during late Wednesday night and into the early hours of last Thursday morning.
Michael says it took the road haulage company three and half hours to deliver the cargo on a 50 km journey from Sligo to Ballaghaderreen. "We had a shipment to Aurivo in November 2018 with two big units on it, what has now come over during the Christmas period is an add on to this," Michael said. The cargo was delivered on the Catania boat and travelled from Bulgaria to Sligo in a job that Michael says was 'out of the norm' for them as they mainly dealt with the delivery of logs, fishmeal, and anthracite.
"It came over the Catania cargo ship, the same one used in 2018. In Burgas, Bulgaria, they have a big port, so it wasn't a big deal for them to get on the ship, but of course in Sligo it's a much bigger deal, we had to bring in trains and everything," he said. "Something like this is different for Sligo, in Galway and Killybegs they are bringing in windmills, turbines, blades, and towers the whole time.
"It wouldn't be seen as a big of a deal for them, but it was a one in a million chance for us here in Sligo." Michael says that while other ports around the country may have bigger ports and that they have the capability to do bigger jobs such as and it is important people do not overlook Sligo port. Once the cargo had arrived at Deepwater Quay next to Sligo Harbour the ship was unloaded by Quinn Crane Hire and then Whitten Road Haulage were tasked with bringing the cargo to its final destination.
"Whitten had to do a survey of the route beforehand to see if there's any road furniture, signs that have to come down, traffic lights, wires that are in the way," Michael said. "They organise all that and need to get permits from the county councils of Sligo, Mayo, and Roscommon. They bring in the ESB to lift wires that are too low and then they need the Garda escort along with their permits."
While roads were not technically closed, Gardai would stay a number of kilometres ahead of the cargo to stop traffic and ensure the cargo could pass in as non-disruptive a fashion as possible. "Especially between Collooney and Charlestown they would have known and seen spots where traffic could be pulled out of the way, the roads were not physically closed as such." The sheer volume of cargo being transported would be enough to intimate even the most confident of drivers, but Michael says Whitten Road Haulage specialise in this level of cargo and are 'one of the best'.
The largest big unit was 28 metres long, 4.5 metres high and wide, and weighed 95 tons. The smaller unit was 28mtrs long and weighed 20 tons. "They specialise in heavy haulage, it's what they do, and they can do it the same way a normal man would drive a lorry, there were 15 axes on the largest unit," Michael said.
Michael says that in Ireland there is no official change in speed limit when transporting cargo such as this and drivers continue at whatever speed they feel safest, he stated that on this journey they exceeded their expectations for delivery by a number of hours. "They left the port at Sligo at 9pm and Ballaghaderreen at 12:30am. I spoke with them before and they were hoping to arrive at 1am or 2am but things went even better than expected."
Michael attributed the success of the delivery to everything being well-planned and good cross collaboration between all the different agencies involved.
"It was a well-oiled machine, and everyone gelled together very well," he said.
While much of the larger deliveries in this part of the country are handled in Galway or Killybegs, Michael says it is something he would like to see more of here in Sligo with this job demonstrating when given the chance they are more than capable of pulling it off.