US Army Takes US Navy's Tomahawk Cruise Missile, SM-6 Missile To Hit 'Russia & China' At Medium Ranges
The United States Navy (USN) last week "rehearsed" operating its ship-launched Standard Missile-6 (SM-6) from road-mobile launchers under the US European Command.
Lockheed 'ReWins' £5.5B Swiss Fighter Deal; Lawmakers Clear Way For Procurement Of 36 F-35 Aircraft
A collaborative and joint effort with the US Army - part of the latter Mid-Range Capability (MRC) 'Typhon' system - showed containers on articulated trucks claimed to be carrying the SM-6. The US Naval Forces Europe-Africa/US Sixth Fleet handle tweeted a photo of the truck-mounted launchers that "enables rapid defense of the maritime domain."
.@USNavyEurope personnel conducted convoy protection rehearsals with a @USNavy modular SM-6 launching system within the @US_EUCOM area of responsibility on Sunday. This @USNavy capability enables rapid defense of the maritime domain.#PresenceMatters pic.twitter.com/GKtTrrrZyT
-- U.S. Naval Forces Europe-Africa/U.S. Sixth Fleet (@USNavyEurope) September 14, 2022
The US Army's MRC/'Typhon' missile, currently being developed, will fill the mid-range capability gap between 2776 kilometers of the Long Range Hypersonic Weapon (LRHW) and the 482-kilometer reach of the Precision Strike Missile (PrSM) - both of which are also under-development.
In other words, it needs missiles that can strike targets between 500 and 1,800 kilometers.
US Army Joins Forces With US Navy
Until the two are ready, the army will operate the Navy's sea-launched Tomahawk Land Attack Cruise Missile (LACM) and the surface-to-air SM-6. While the Tomahawk has some anti-ship utility, the SM-6's Block-1A variant possesses limited land and sea target attack potential. Besides its primary role of shooting down aircraft, cruise missiles and hitting incoming ballistic missiles in their 'terminal phases.' Some reports, however, suggest the SM-6 and the Tomahawk will continue operating alongside the Typhon.
The commonality the Army is trying to build with the Navy does not extend to the Tomahawk and SMs but also the Mk.41 Vertical Launch System (VLS), which will fire the Typhon MRC missile.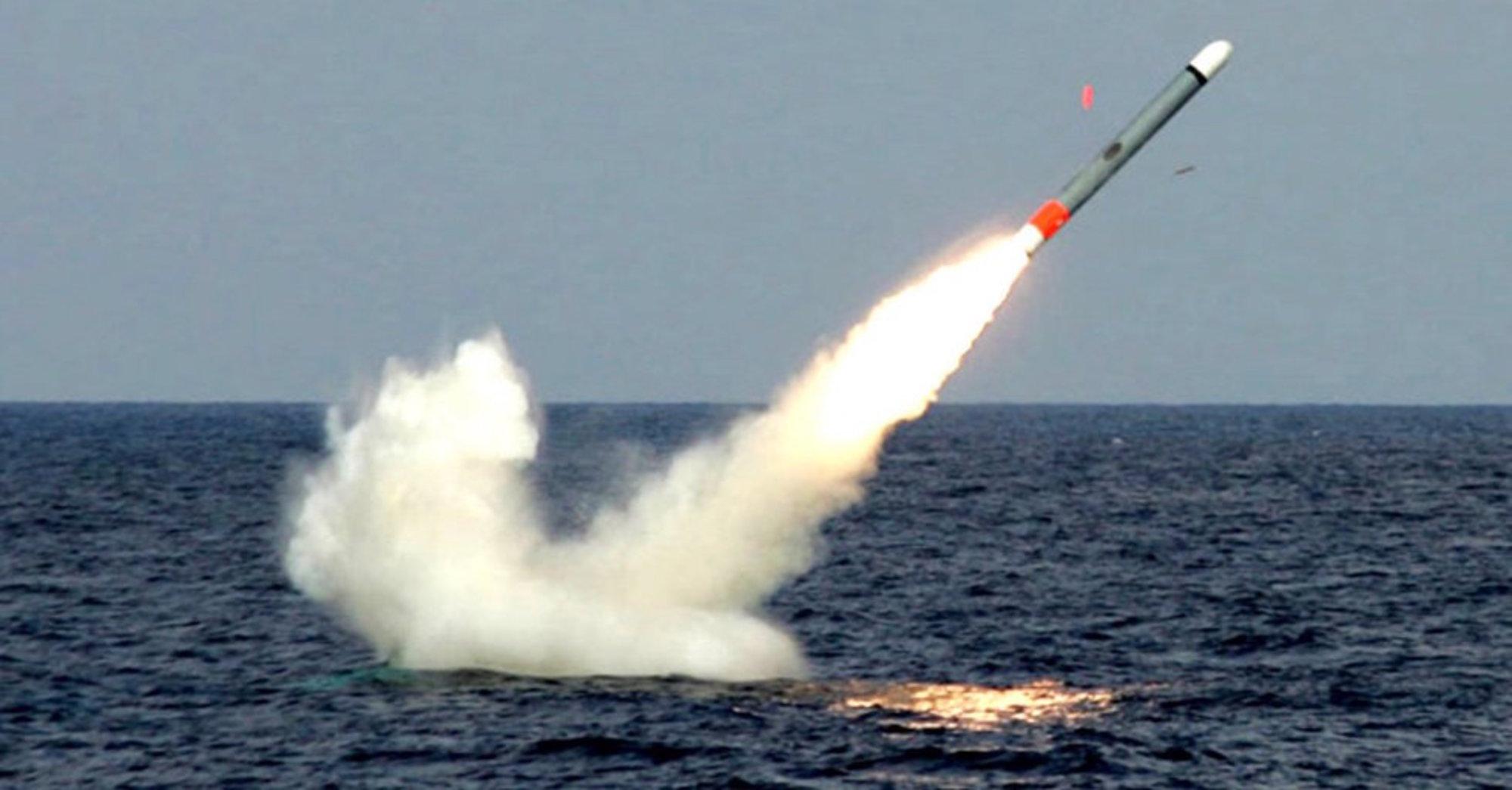 File Image: Tomahawk Missile via USNI
A derivative of the Mk.41 VLS was also tested on an Unmanned Surface Vessel (USV) of the US Navy, part of its 'Ghost Fleet Overlord Programme' in September last year. An SM-6 was launched from the USV Ranger, which signified a "game-changing, cross-domain, cross-service concepts the Strategic Capabilities Office and @USNavy are rapidly developing," the Department of Defense tweeted. Each MRC Typhon launcher has four cells and is installed on the trailer in an articulated mount that allows for it to be carried in a horizontally stowed configuration during transport, according to an illustrative graphic by the US Army.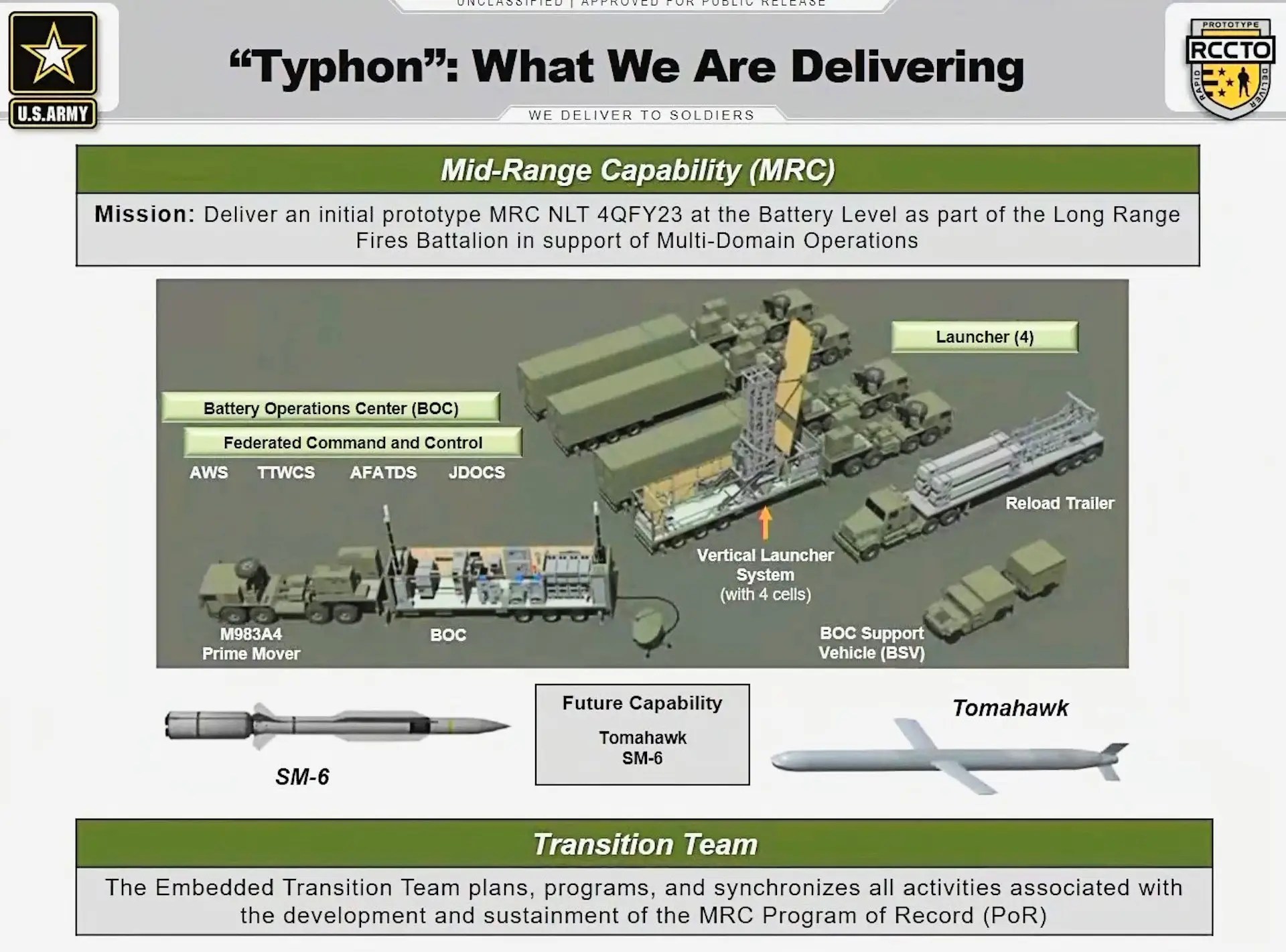 An illustration of an MRC Typhon missile system and battery released by the US Army
Aimed At China & Russia
Marcia Holmes, deputy director of the US Army's Rapid Capabilities and Critical Technologies Office (RCCTO), said at a conference in September 2021: "By maintaining commonality with the Navy, we can capitalize on modernization efforts, on investment strategies, across a multi-service Mid-Range Capability program to include joint test events...the Navy and the Marine Corps."
A Breaking Defense report, however, said that the "MRC's progress is another leap for the Army's long-range strike plans, which are critical to the service's role in countering China across all domains -- land, sea, air, space, and cyberspace." China's long-range cruise missiles like the YJ-18, the unorthodox Anti-Ship Ballistic Missile (ASBM) DF-21D, and the 300-kilometer range Beyond Visual Range (BVR) PL-15 air-to-air missile admittedly would keep the US Navy and US Air Force from ever coming close to China's coast and successfully tackled from afar in the western Pacific. This Anti-Access/Area Denial (A2/AD) capability, coupled with its home advantage against the US' 'away disadvantage' - acknowledged by its military leaders and experts - has triggered a massive technological and doctrinal drive to catch up.
According to Miguel Miranda, founder of the Manila-based 21st Century Asian Arms Race website, China has the "largest selection of short and medium-range anti-aircraft weapon systems in the world." Anti-aircraft, anti-missile systems, and anti-drone devices are pouring out of Asia and Europe - but mainly Asia. Japan, South Korea, and Taiwan are all doing their own thing.
An outlier like Israel, with the full support of the USA, continues to work on its air defense systems. So it's a crowded niche, and it isn't surprising the US military is now trying to stay ahead of the curve," he said. Miranda was responding to a question about the geopolitical and techno-industrial-military context surrounding the Typhon's development.
With the system being initially fielded in Europe, the US hopes to use the capability against Russia.
A June 2022 Congressional Research Service (CRS) report noted: "Reported improvements to Russian and Chinese artillery systems present a challenge to the US Army.
Russia's and China's improved, longer-ranged artillery systems, new employment techniques leveraging unmanned aerial vehicles (UAV) for target acquisition, and the proliferation of special munitions - such as precision, thermobaric, loitering, and top-attack - have renewed concerns about the potential impact of Russian and Chinese artillery on US combat operations and ground combat systems."