Tips for Shippers & Freight Forwarders on How to Prepare Cargo for Air Transport
Every day 140,000 tonnes of cargo are shipped by air worldwide with a value of £18.6 Billion. The massive amounts of cargo shipments require shippers and freight forwarders to have a deep understanding of the standard practices and regulations regarding the process for air cargo handling.
Why is Preparing Your Cargo for Shipment Crucial?
The detailed process of transporting air cargo from end-to-end begins with the shipper properly meeting standard procedures as outlined in the IATA Cargo Handling Manual (ICHM). The shipper sets the stage for the successful delivery of cargo shipments.
The shipper is responsible for booking and planning the cargo shipments. Proper cargo labeling and cargo marking help ensure the freight is handled correctly throughout the shipping process. From there, the freight forwarding company must confirm the capacity they can carry and create route maps for transporting the cargo shipments.
It is the preliminary work that ensures the air cargo is delivered in a timely manner.
Following Standard Procedures
Door-to-door freight handling is a very detailed process. The multi-step procedures take planning, care, and precision to ensure the safe delivery of the cargo shipments to their final destination. In order to ensure the process flows smoothly and there are as few incidents reported as possible, standard procedures must be in place and strictly followed.
Standard procedures are time-tested for the most efficient, safest, and timely best practices to perform a job function properly.
What is a MOP?
When following best practices for a specific job function such as cargo handling, it is essential to have a Master Operating Plan (MOP). A MOP for cargo handling describes processes of various levels involved in the transport of air cargo to allow for a systematic flow from shipper to consignee. These processes are carefully outlined in the ICHM in the various sections and subsections.
What Parties Are Involved in the Preparation of Cargo for Shipping by Air?
Two major stakeholders are involved when preparing cargo for shipment by air.
That is the shipper and the freight forwarder. The shipper is in initial possession of the consignment and readies the packages for pickup by the freight forwarder. The freight forwarder is responsible for the freight handling between the shipper, the carrier, and the consignee.
The freight forwarding company's role is significant in safely delivering cargo shipments.
Preparing Cargo for Shipment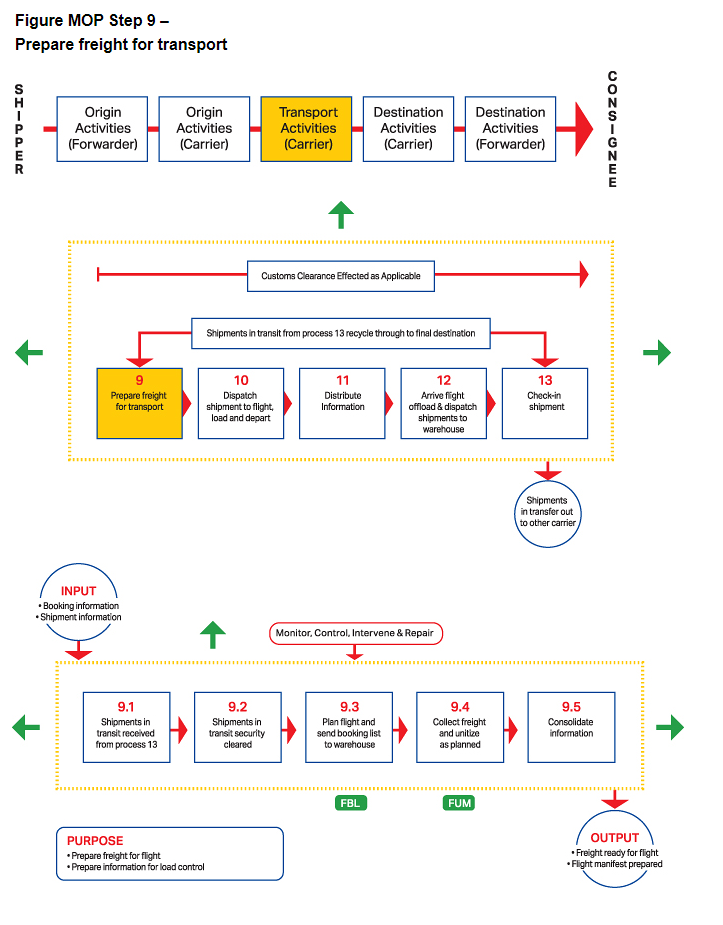 Preparing cargo for shipment is a multi-step process that, when followed correctly, reduces problems that may arise with freight handling. It includes 5 main steps:
1. Receive Transit Shipments from Shipper
Receiving the shipment from the shipper is the first step in the cargo forwarding process, and there is a particular protocol that must be followed.
Each following action must be taken, but there are also procedures on how to properly perform the duty as well. Upon pickup of cargo, a freight forwarder must:
Check cargo labeling
Check cargo marking
Confirm special requirements
Perform a temperature check
If empty ULDs are required, load ULDs
Verify that the cargo pieces correspond with shipment detail and parcel ID
Load cargo in the vehicle
2. Shipments in Transit are Security Cleared
Maintaining a high level of security during the freight handling process is of the utmost importance to building strong relationships with other stakeholders. A strong level of trust is required when hiring cargo freight forwarding companies.
This is why the IATA Cargo Handling Manual (ICHM) includes a section specifically covering security regarding freight handling. To begin, all personnel involved in the acceptance and handling of cargo require a background check. Cargo handlers must be appropriately trained regarding security measures and show appropriate identification upon pickup and delivery of goods.
All other security measures must be followed according to the IATA manuals.
3. Plan Flight and Send Build-Up Plan to Warehouse
As part of the plan flight, the carrier must receive the pre-plan details and an initial build-up plan must be prepared. Planning what build-up must be done for the flight in the smallest container possible is part of the flight build-up plan. When creating a build-up plan, specific tasks must be accomplished as outlined in Section 9.3 of the IATA Cargo Handling Manual (ICHM).
4. Collect Freight and Unitise as Planned
Before starting the actual ULD build-up, a serviceability check must be performed to ensure the ULD and all accessories are fit for use.
The transportation of freight should always be done without damage to the ULD or pallet, whether being moved by forklift or dolly. When collecting the freight cargo, cargo handlers should pay close attention to the cargo marking, which details instructions on how to handle the container.
5. Consolidate Information
It's important to consolidate the material gathered during the build-up stage for ease of understanding the information. The completed build-up will need to be verified against the booking list, pre-manifest, and checks performed on the status priority of special cargo.
In addition, the following steps should always be taken:
Update special instruction records in the system
Complete final load to carrier or ramp handling agent load control
Generate electronic cargo manifest
Air Cargo Track and Trace
Shippers can rest assured with air cargo track and trace, which is another layer of security provided to cargo during the shipping process. While air cargo track and trace is often used for perishables and temperature-controlled goods for accountability's sake, it is a valued means for tracking goods throughout transport. This allows shippers to know precisely where a consignment is at any given time through the container track and trace system using technology such as RFID (radio frequency identification).
Air cargo track and trace assists in tracking the temperature of goods through PED devices and BLE readers and devices to ensure the appropriate temperatures are maintained and, if not, where the breakdown occurred. Container track and trace devices are also used to share information with customs and help speed up the truck's border crossing with automated crossing.
What Training is Required for Cargo Handling?
In regards to air cargo handling, there are a few courses that might be required. Anyone involved in the acceptance or process of cargo handling must be trained in security procedures and have security clearance.
When handling special cargo or dangerous goods, specific training is required to handle those consignments.
Why Should a Small Business Invest in the ICHM Manual?
Small freight forwarders with an eye toward growth need every benefit afforded to them in order to reach their goals. One of these benefits is showing up as an expert in their field. This means being prepared for the many steps in regard to cargo shipments, understanding the best practices and regulations in a step-by-step manner, and knowing how to work seamlessly with other departments.
The IATA Cargo Handling Manual (ICHM) provides you with all this information and more.
New This Year-ORA
New this year to the ICHM is the development of the cargo Operational Risk Assessment (ORA). It is based on the Master Operating Plan (MOP), which provides the air cargo supply chain with an end-to-end process of transporting cargo by air. The ORA determines the main risks involved throughout the passage of cargo from shipper to consignee.
To help shippers, freight forwarders, cargo handlers, and airlines provide a seamless cargo handling experience, the ORA also provides a high-level risk mitigation plan.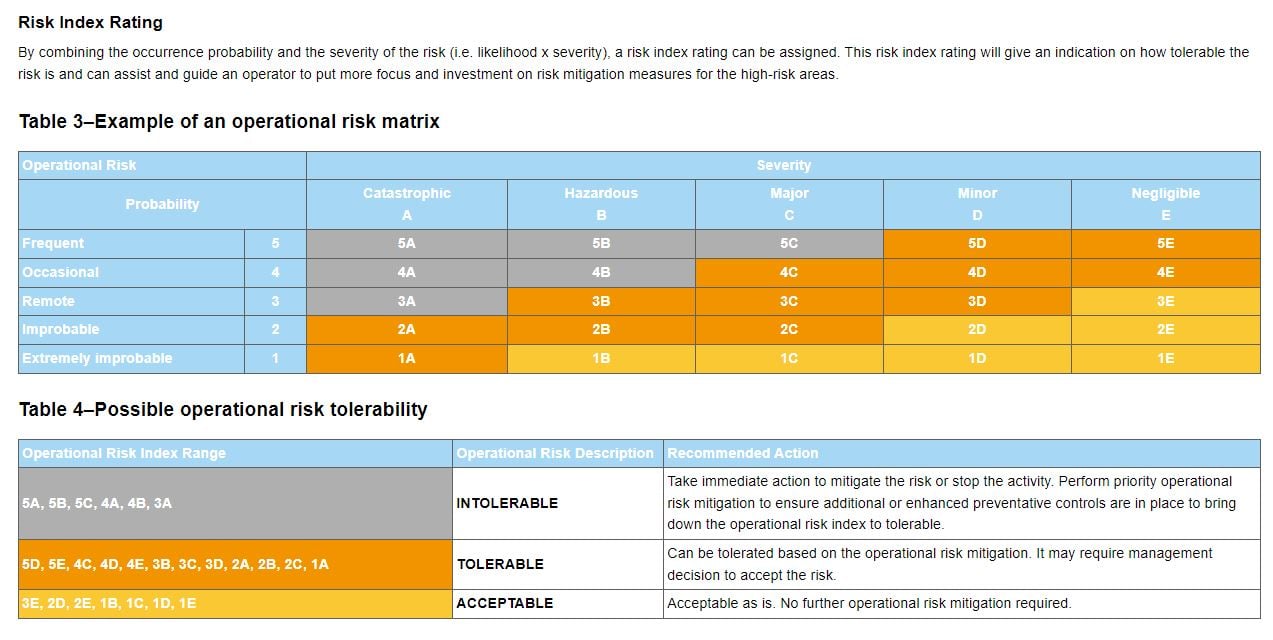 Who Makes the Rules and Regulations?
The ICHM is published with the helpful input of many individuals, organizations, IATA member airlines, and cargo handling agents who are well versed in the contents held within. The manual was developed by the IATA Cargo Handling Consultative Council (ICHC), created in 2012, along with all of the Cargo Services Conferences subgroups.
The ICHC's objective is to establish best practices while addressing all aspects of cargo handling.
Why Are Air Cargo Rules and Regulations Updated Annually?
The airline industry and air freight handling are forever changing. For almost 80 years, IATA has made it a priority to promote airline safety, including the process of air cargo handling. Over the years, IATA has found that state regulations and laws change frequently and are often more restrictive.
IATA updates its manuals yearly to ensure stakeholders have the most current information so that the highest standards are followed. [embedded content]
Where to Find More Information
Shippers look for cargo handlers who are knowledgeable in current safety standards and regulations. To become an industry leader in air cargo handling, you can start by getting the IATA Cargo Handling Manual (ICHM) today.
As shippers and freight forwarders, the IATA Cargo Handling Manual is a valuable resource for assuring the safe delivery of air cargo to its final destination.
However, it is not the only manual you may need.
You can learn more about IATA's other manuals here.