NTSB wants alcohol detection systems installed in all new cars in US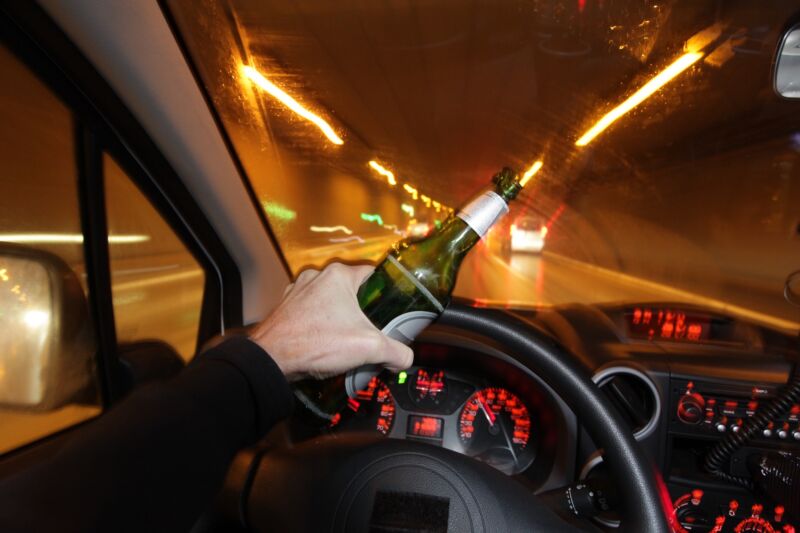 EnlargeGetty Images | rolfo
The US National Transportation Safety Board (NTSB) yesterday recommended that all new vehicles be equipped with alcohol detection systems that can stop people from driving when drunk. The NTSB can't issue such a regulation on its own but urged the National Highway Traffic Safety Administration (NHTSA) to do so. The NTSB said it "is recommending measures leveraging new in-vehicle technologies that can limit or prohibit impaired drivers from operating their vehicles as well as technologies to prevent speeding."
If adopted, this would require "passive vehicle-integrated alcohol impairment detection systems, advanced driver monitoring systems or a combination of the two that would be capable of preventing or limiting vehicle operation if it detects driver impairment by alcohol," the NTSB said. The agency urged the NHTSA to "require all new vehicles to be equipped with such systems." Under a US law enacted last year, the NHTSA is already required to examine whether it can issue this type of rule.
While drunk driving is a longstanding problem that has caused many deaths, the NTSB said its recommendation was spurred by its investigation into one crash that killed nine people--including seven children--in January 2021 on State Route 33 near Avenal, California. On that two-lane highway with a speed limit of 55 mph, an SUV driver leaving a New Year's Day gathering "was driving at a speed between 88 and 98 mph," the NTSB report said.
Nine dead in drunk-driving crash
The driver failed to maintain control of his vehicle due to alcohol use, and "his blood alcohol concentration was more than double California's per se legal limit of 0.08 grams per deciliter," the NTSB said. The crash killed the SUV driver and eight people in a pickup truck, the agency said:
The SUV partially departed from the paved roadway onto a dirt and gravel shoulder area to the right.
The SUV driver then made a steering correction to the left, causing the vehicle to go out of control. The SUV crossed the highway centerline and intruded into the northbound lane directly in front of a northbound pickup truck, which was occupied by an adult driver and seven passengers, ranging in age from 6 to 15 years old, and was traveling at a speed between 64 and 70 mph. The SUV and pickup truck collided head-on.
The pickup truck immediately caught on fire, and other vehicle operators on SR 33 who stopped at the crash scene had insufficient time to extricate any occupants before fire engulfed the truck. As a result of the crash, the SUV driver and all eight pickup truck occupants died.
While post-crash toxicology tests "detected evidence of cannabis use, the NTSB was unable to determine whether the effects of cannabis use contributed to the driver's impairment," the NTSB said. The probable cause of the fatal crash "was the failure of the sport utility vehicle (SUV) driver to control his vehicle due to a high level of alcohol impairment," the NTSB said.
We asked the NHTSA today if it plans to require new vehicles to be equipped with alcohol detection systems. An NHTSA spokesperson responded with a statement saying, "The only acceptable number of impaired driving crashes is zero. The agency has initiated work to meet the Bipartisan Infrastructure Law's requirement for rulemaking concerning advanced impaired driving technology in vehicles." The law was enacted in November 2021.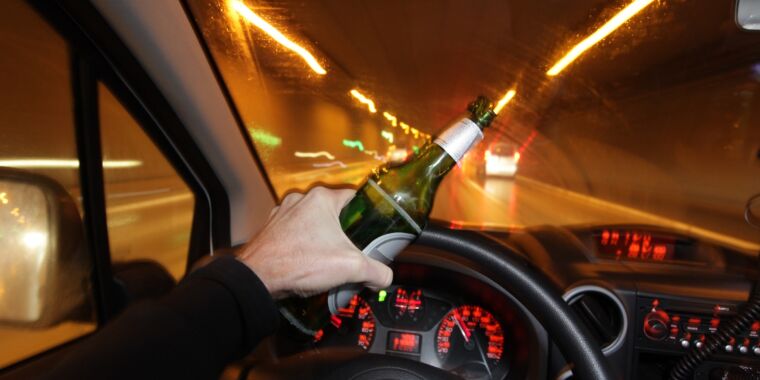 Congress urged NHTSA to act
Section 24220 of the Bipartisan Infrastructure Law requires the NHTSA to issue a rule "that requires passenger motor vehicles manufactured after the effective date of that standard to be equipped with advanced drunk and impaired driving prevention technology." If the rule is implemented, the law says the NHTSA must issue it by November 2024 and then give car manufacturers at least two but no more than three years to comply.
But there's a caveat. The law says that if the NHTSA determines such a rule would conflict with Section 30111 of Title 49 in US law, it can delay issuing a rule for three years and submit annual reports to Congress describing the reasons for not issuing the rule. Each annual report would also have to contain an update on "the deployment of advanced drunk and impaired driving prevention technology in vehicles."
In writing the law, Congress noted that "in 2019, there were 10,142 alcohol-impaired driving fatalities in the United States involving drivers with a blood alcohol concentration level of .08 or higher, and 68 percent of the crashes that resulted in those fatalities involved a driver with a blood alcohol concentration level of .15 or higher." Congress also cited a study by the Insurance Institute for Highway Safety estimating that "advanced drunk and impaired driving prevention technology can prevent more than 9,400 alcohol-impaired driving fatalities annually." "We need NHTSA to act. We see the numbers," NTSB Chair Jennifer Homendy said, according to an Associated Press article. "We need to make sure that we're doing all we can to save lives." Homendy also said the NTSB "has been pushing NHTSA to explore alcohol monitoring technology since 2012," the AP wrote in a paraphrase of her comments.
Industry moving too slowly, NTSB says
The NTSB's report on the Avenal crash said that in 2020, "roughly one in three traffic fatalities resulted from crashes involving alcohol-impaired drivers" and that "recent data show that impaired driving crashes are increasing."
"Because people who are impaired by alcohol often have compromised judgment and indulge in increased risk-taking, interventions are needed that do not require decision-making by impaired drivers," the NTSB said. "Vehicle-integrated passive alcohol detection technologies that prevent or limit impaired drivers from operating their vehicles have significant lifesaving potential; however, development of the technologies has been slow, and additional action is needed to accelerate progress in implementing these technologies." The NTSB wants the Alliance for Automotive Innovation, an industry group representing manufacturers of nearly 98 percent of new cars and light trucks sold in the US, to inform its members about the January 2021 crash in California and "encourage them to accelerate development and prioritize deployment of advanced impaired driving prevention technology and to seek innovative ways to adapt existing technologies, such as driver monitoring systems, to combat alcohol-impaired driving." One ongoing project is the Driver Alcohol Detection System for Safety Research Program, in which the Automotive Coalition for Traffic Safety and NHTSA are "researching a first-of-its-kind technology called the Alcohol Detection System that will detect when a driver is intoxicated with a blood alcohol concentration (BAC) at or above 0.08 percent--the legal limit in all 50 states except Utah--and prevent the car from moving." The project website says the "system will be made available as a safety option in new vehicles, much like automatic braking, lane departure warning and other advanced driver assist vehicle technologies."
Utah enforces a BAC limit of .05 percent, and the NTSB previously called on all other states to match the Utah standard.
The NTSB also wants the adoption of intelligent speed adaptation (ISA) to reduce speeding, though that's not a new request.
The NTSB said it "reiterated a recommendation to NHTSA to incentivize passenger vehicle manufacturers and consumers to adopt ISA systems by, for example, including ISA in the New Car Assessment Program (NCAP)." This technology could have reduced the severity of the Avenal crash, the NTSB said.