Honoring a titan: Reflections of the son of an American trucker
Over the past years, our nation has seen firsthand just how essential truck drivers are to our everyday lives. From transporting almost everything we see, touch and/or feel, truck drivers are the backbone of our transportation industry, and were it not for them, where would we be during the darkest of times or the brightest of days? For me, being the son of a truck driver has brought with it a stable of fond memories, a crown jewel of education, and the foundation on which I stand today.
With more than 3.6 million professional truck drivers in the United States, it is only fitting that we celebrate the labor of the truckers on the road today, and importantly, those who came before them, paving the way forward.
A week and more honoring titans
In honor of National Truck Driver Appreciation Week last week, I wanted to interview my father, Arthur Faulkner Sr., a man who has been the embodiment of a trucking champion -- relaying the importance of safety practices, quality customer service, dependability and generational prominence on the road. For me and my siblings, Dad's lessons have amounted to this simple message: when you work, you work hard and you do the best job possible.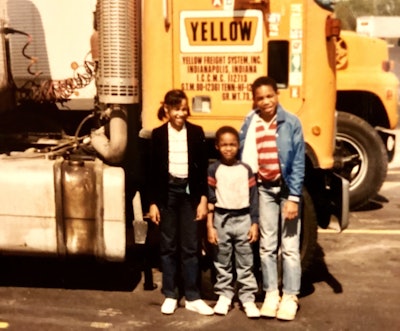 The author of this story, Omari Faulkner (center), pictured with his siblings by his father's truck during the author's youth.

My father and uncles learned the craft of truck driving by watching my grandfather. Not only did each of them learn how to drive a delivery truck at the early age of 11, but they also absorbed the importance of customer service and professionalism. "Working with my father and brothers was a hands-on experience which taught us how to work hard," Dad told me. "Not only did we learn to drive the truck, we learned to navigate the city, safety, responsibility and how to locate unknown places."
Hearing my dad's stories of how he developed relationships with his customers was always enlightening, as it was for him firsthand in those early days. "Watching our father interact with customers was an experience that helped me later in life," Dad said. "He was dependable at his job, and so professional." Through building exceptional rapport with team members and customers alike, like his own father before him, he carried out his work more effectively, which even made for a pleasurable day-to-day working environment.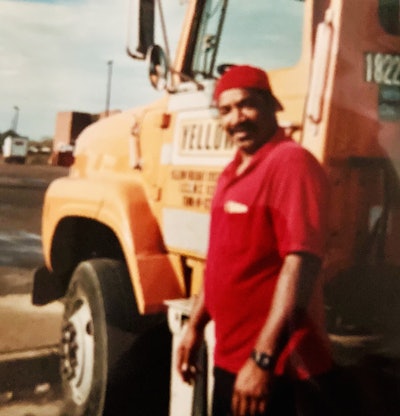 Arthur Faulkner Sr., pictured during his trucking career This very same ethos is engrained in professional drivers across the land who undertake the demanding role of transporting and delivering our nation's goods safely.
We all have that favorite book we recommend, or the story we've told a thousand times. Then there is that one movie -- you've never seen it enough and each time it graces your screen, you seize it, ingest it and you appreciate the familiarity, often enough in a new light. Interviewing my Dad invoked the same sense in me, because ever since I can remember, he's always shared vivid stories or life lessons centered around his trucking experience.
"As a young man, I'd work any shift available and proved myself early on," I remember him saying as a kid. "Then as I got older and into my 60s, the old horse got tired, and retirement came, but I enjoyed my trucking career." With every experience he shares, there's a different ultimate outcome: something more profound is highlighted, your perspective shifts, you learn something anew. Often, as is the case for me, you want to share that journey with someone else.
A Trucker for life
My dad retired from trucking at the age of 62.
Months after his retirement, I gave him a call during the day, as was usual then and to this day. I'll never forget his response when I asked what he was up to: "Nothing much, just sitting in my truck and reading the newspaper," he said. Knowing Dad, I just continued to listen. "Yep, I'm going to finish my lunch and wait to hear from the dispatcher."
After spending most of his life working behind the wheel, I knew that retirement would be a transition, a brand-new phase of life to settle into. And after witnessing just how physically demanding his job was, I knew it was time for his next season to begin, but as he went on to tell me that day, "While I'm just sitting on my couch, I still think about just sitting in my truck." It is my hope that if we continue to share the stories of our nation's truckers, not only will these stories be passed down to future generations, but the stories will also help educate people and broaden perspectives.
I've been blessed to be the son of a truck driver.
Today, and every day, let's salute those who transport goods around our country and remain a backbone to supporting our economy and supply chains day in and day out.
[Related: Remembering Carl Rhodes -- with his son, Rick -- after well more than a half-century trucking]