Nanay's Kitchen brings Filipino-Chamorro fusion cuisine to US
PUTTING a spin on Filipino and Chamorro cuisines, Nanay's Kitchen has made its way from Mississippi to Alaska.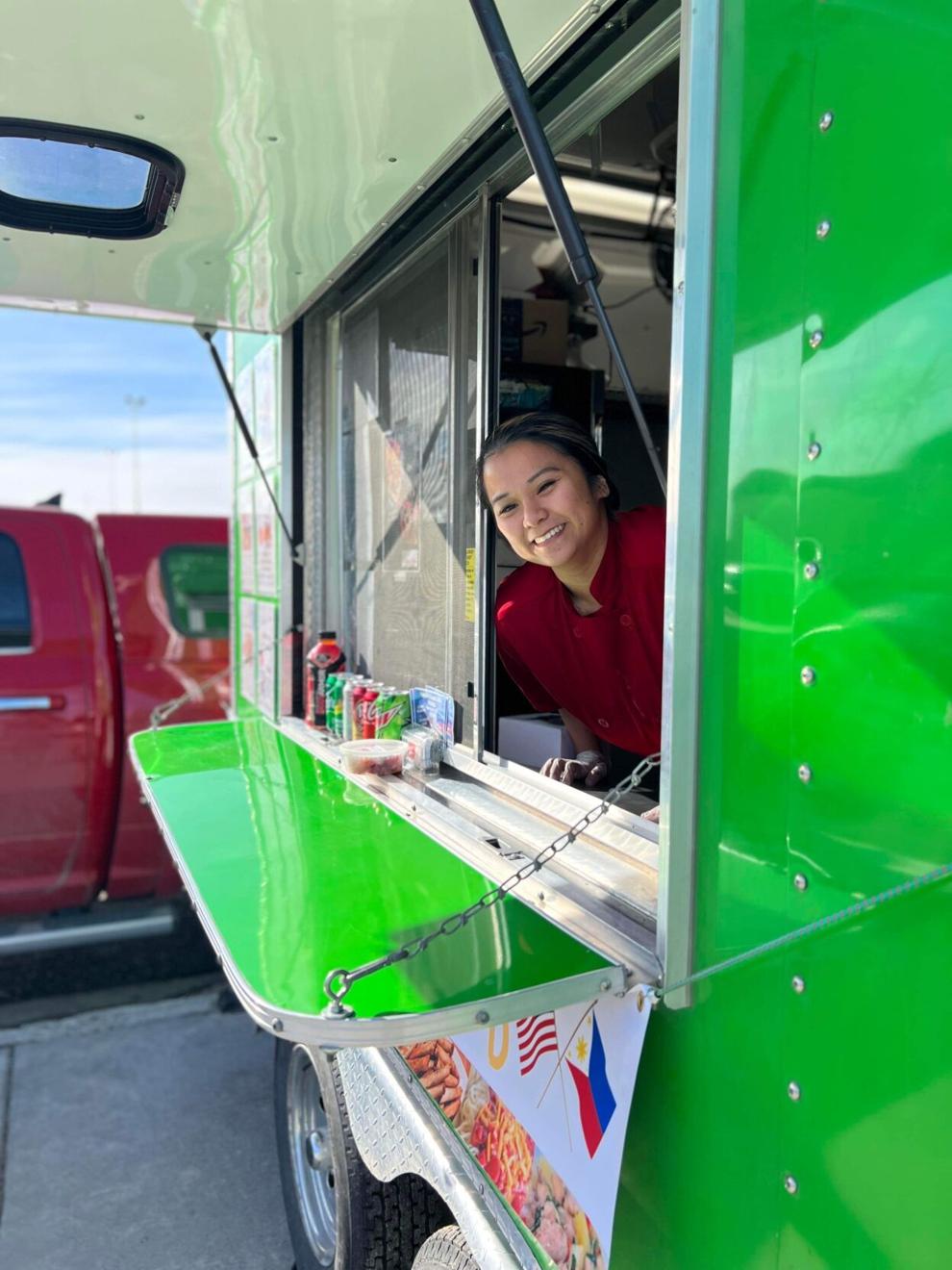 Aderwyn Jade Graybeal, co-founder of Nanay's Kitchen, poses for a photo inside of her food truck in Alaska.
Photo courtesy of Aderwyn Jade Graybeal
Founded by Saipan daughter Aderwyn Jade Graybeal and her husband Timothy, the food truck has garnered attention from the renowned Food & Wine Magazine as one of the best places to eat Filipino food in Alaska. The couple are active duty personnel stationed at the Eielson Air Force base just outside North Pole, Alaska. Graybeal, who goes by Jade, graduated from Saipan Southern High School in 2011, then enlisted in the U.S.
Air Force. She noticed that everywhere she was stationed, there was a lack of Pacific Islander and Filipino cuisines. She then met her husband in Europe, where they befriended a group of Asian and Pacific Islanders who shared a collective desire for a taste of home.
The couple also decided that it was time to settle down, and they now have two children, Thea Melody and Verona Vale. After a month of contemplating her next steps, Graybeal decided to open up a food truck, amid the Covid-19 pandemic. "I couldn't sit still.
I realized that food brings people together. I have met cool people, and the common theme was food," she shared in an interview with Variety. Graybeal said she wanted share her passion for cooking and love of her family while also providing to her family's needs.
"The biggest thing for me is being available for my kids, but also having the flexibility of catering to different events," she said. "It's just easier to have a food truck than building a shop and having a restaurant. I just want to be able to be with my kids and still share food from the islands."
Nanay's Kitchen is inspired by Graybeal's grandmother who raised her and was more like a mother to her. "Nanay" in Filipino means "mother." "Everything I know, from the recipes and whatnot, is from her.
Every time I'm cooking, it's like I'm in her kitchen," said Graybeal, adding that she now gets to share this experience with her children. The Filipino-Chamorro food truck mostly caters to military servicemembers, especially those who have been to the Marianas and miss the food culture there. Graybeal said Nanay's Kitchen is really big on "linner," a combination of lunch and dinner.
Her food truck business started in Mississippi in 2011, where her family was previously stationed, and initially served up to 20 to 50 plates daily. "It brought a sense of community. I saw some of these young scared servicemembers because I was one of them.
We were just looking for like-minded people that we could share good food with and a sense of home, a sense of belonging. Everyone has a story. I have seen how nice people are, especially during [the Covid-19 pandemic], that collectiveness and sense of family," said Graybeal.
After receiving orders to serve in Alaska, the couple sold their food truck, moved to the northernmost U.S. state where they obtained another food truck in 2018. Timothy primarily does the driving, while Jade creates the menu, cooks, and handles sales. The couple drive to popular spots, park there, and cater to customers.
They also provide catering for events. In June of this year, Nanay's Kitchen was mentioned in the Food & Wine Magazine as one of the best places to eat Filipino food in Alaska. "Food brings people together.
It's the common language. Everyone needs to eat. Good food makes for a good memory.
For me, that's what I'm trying to do," said Graybeal. She encouraged community members in the CNMI to pursue their dreams. "I was that one girl in high school that if you told me now that I'd have a food truck and was recognized by the Food & Wine Magazine, I would have been like, 'No way.
There's just no way.' But hey, if I can do it, anyone can do it. It's just a matter of believing in yourself. Now I'm doing bigger things, more than I could ever dream of," she said.
Graybeal put her entire savings into this endeavor, betting on herself, confident that she will succeed and grow, with her family right by her side, determined to honor the legacy of her grandmother through her cooking. "It's a lot of hard work. There is a lot of blood, sweat, and tears that go into it.
But I love when I see a person smiling after taking a bite of food that I cook. It just warms me up, and them as well. They're just so happy because it gives them comfort.
For that one moment in time, they're home, with their mom, back in the islands," she said.
For more on Nanay's Kitchen, visit https://www.facebook.com/nanayskitchen.AK or email [email protected]/.