Kelly Tolhurst appointed UK shipping minister but new aviation remit raises eyebrows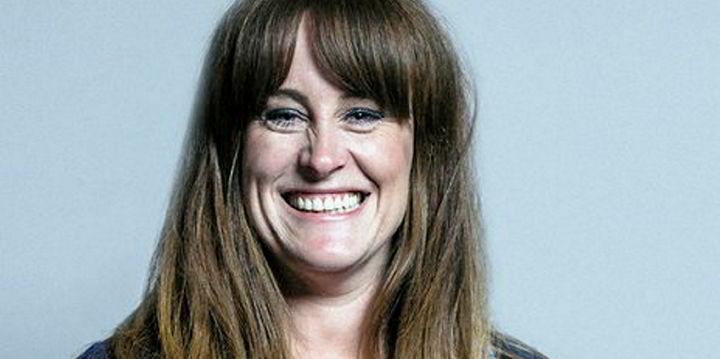 Kelly Tolhurst MP has been appointed as the UK's new shipping minister, replacing Nusrat Ghani, who lost the role in a cabinet reshuffle last week. But Tolhurst will have an expanded brief in the role, which TradeWinds has learned is already raising eyebrows within the UK maritime community. As well as her maritime remit, Tolhurst will also work on aviation, freeports, security, civil contingencies and shadow roads in her new role as parliamentary under secretary of state at the Department for Transport (DfT).
Tolhurst was previously parliamentary under secretary of state at the Department for Business, Energy and Industrial Strategy (BEIS) from July 2018 until last week. She is a Conservative member of parliament (MP) for Rochester and Strood. Ghani, Tolhurst's predecessor in the role, had been shipping minister since January 2018 but lost the position in the cabinet reshuffle on 13 February, as TradeWinds has reported.[1]
Ghani was a popular figure among the UK's maritime industry and her departure was met with dismay and surprise on social media and in statements from major trade bodies.
Aviation worries
The addition of aviation to the minister's brief has, however, raised eyebrows among the UK maritime community, sources have told TradeWinds. Being more consumer-facing than maritime, the aviation sector has a higher profile in the UK. It has also attracted big headlines in the media with issues like the controversial expansion of Heathrow airport and the bankruptcies of UK airlines such as Thomas Cook and Flybmi.
One source said it was a "cause for concern" and said it could detract from some of the time, energy and commitment the new minister might otherwise dedicate to her work in maritime. Mark Simmonds, head of policy and external affairs at the British Ports Association, is more optimistic. "[It's] worth remembering that the previous minister was also a whip during a time when the Government was incredibly weak, but she still found time to champion the sector," he told TradeWinds.
Freeports remit
The upshot is that Tolhurst's remit also includes work on freeports, which UK ports organisations have welcomed enthusiastically.
The UK Government this month published a new consultation on the introduction of so-called freeports, which have a "free zone" through which certain goods can be transhipped or processed without attracting customs duties. The government aims to set up 10 freeports as part of the plan, which it hopes will deliver "port-centric" growth and boost the economies of coastal communities. "Now is a pivotal time to take on the brief of maritime minister, with the current consultation on Freeports," said Richard Ballantyne, chief executive of the British Ports Association.
"Post-Brexit trade-facilitation is also high on the agenda, as well as sustainability and port connectivity." Tim Morris, chief executive of the UK Major Ports Group, which represents the nation's biggest facilities, said it was "great to see someone with a maritime background taking on the role". "We felt that we'd established real pro-ports momentum under the minister's predecessor and look forward to working with her and her Department to deliver some important outcomes," Morris told TradeWinds.
Industry welcome and policy asks
Tolhurst will also have to tackle post-Brexit arrangements for the maritime industry in her new role.
Bob Sanguinetti, chief executive of the UK Chamber of Shipping, highlighted the need for clarity on the UK's future trading arrangements in a letter to the Minister, published on Wednesday. "We want the government to prioritise and lead on developing and introducing a new 'Maritime Chapter' in bi-lateral and multilateral trade negotiations to maximise the opportunities for the UK's international shipping services," he wrote on behalf of his organisation's members, which comprise UK shipowners and shipping companies. Sanguinetti also suggested that the minister should consider the UK Chamber's recommendations on how the nation's tonnage tax regime can be updated and improved.
"We are in close liaison with your officials following a review we conducted in 2018 and once we have new UK maritime guidelines in place we will be urging those changes be implemented," he wrote to the minister. Ben Murray, director of Maritime UK, a promotional body for the industry, also welcomed Tolhurst to her new role. "There's a huge amount to do, but the good news is that we have very solid foundations to accelerate our work between industry and government, through Maritime 2050," Murray said.
"As somebody who has run her own maritime business, we look forward to working closely with [Tolhurst] and the department to maintain and strengthen the UK's position as a leading maritime nation." Jos Standerwick, chief executive of Maritime London, said that Tolhurst's background in BEIS makes her "perfectly placed" to push forward the commercial shipping agenda within government. "Changing global tax norms, the fast-evolving ship finance environment, coupled with the need for the sector to decarbonise, has created a unique opportunity for the UK," Standerwick told TradeWinds.
"I look forward to working with the minister to ensure we capitalise in them."
References
^ as TradeWinds has reported. (www.tradewindsnews.com)